SLIS in the World
Posted November 24th, 2021 by Johnna Purchase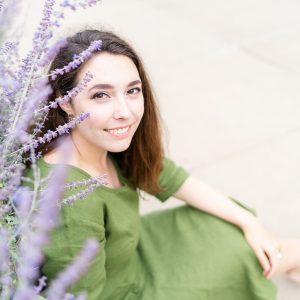 Welcome to our new feature, SLIS in the World, where we will be interviewing alums to see where in the world they are now, what they're doing with their library degree, and what they loved the most about their time at Simmons.
When people think of job opportunities post-graduation, they tend to think of roles like "middle school librarian" or "reference librarian." Cybersecurity research tends not to be anywhere on the list of imagined roles, but for our inaugural alum, that's exactly what her work at Forester involves! We're happy to welcome to the blog Isabelle Raposo, a DYO ("Design Your Own") concentrator who, after following her various passions through this flexible concentration, now describes herself as a "Swiss Army Knife" librarian ready to tackle all sorts of information needs after graduating in 2021. Read on to learn more about Isabelle's work experience, favorite courses, and best study hack!
The DYO track at Simmons allows students a lot of flexibility in how they shape their studies. How did you approach completing the DYO concentration?
I really didn't have an organized approach. Instead, I let my interests guide me as I chose classes. Most of my courses were about programming, database management, instruction, and digital resources.
Describe your role at Forester. What is it about your work that appeals to you?
Most of my work centers on assisting the production of research reports through the editing and publishing process so that they can be released on the company website. Forester is a company that assists clients with making business decisions so these reports can cover a wide range of topics! I also am involved in project and records management in addition to writing blog posts. Throughout all of these various roles, I communicate with the various stakeholders both within and outside the company which is both challenging and rewarding.
Beyond getting to communicate with others, I really enjoy that I am always learning new things, assisting others with diverse information needs, and establishing trust with my team and the clients I work with. I also like having to work within a network of rules, procedures, and standards to ensure that I and my team are producing the highest quality of work.
Your job at Forester is probably not what most people would think of when they imagine jobs for librarians. How did you find yourself working in a corporate setting?
I was very thorough in my job search, taking about 6-8 months while I researched organizations and applied to a wide array of jobs where I could best apply the unique blend of skills I had learned while studying at Simmons. I noticed the job posting for Forester on LinkedIn and applied on a whim without taking more time to research the company or the role. It turned out to be a happy accident that I got the job and, more importantly, really value the team I work with!
Along the lines of this idea of "non-traditional" library work, what aspects of your current role best align with your studies of librarianship?
I find that many of the skills I learned from my courses translate into my daily work. In particular, helping others with their information needs, navigating information systems, and establishing trust are skills that I use on a daily basis. In terms of classes that I took, Database Management is probably the course I think about the most on a daily basis. It really shaped the way I think about and approach different databases.
What classes or experiences at Simmons best prepared you for your current role?
Like I mentioned before, my Database Management course probably features the most in my daily work. Intro to Programming and Data Interoperability also are very useful because they help me think about my work in terms of it being a fun puzzle or challenge. They also showed me how to make computers work for me and how I can use automation to help avoid human error. Finally, one of my all-time favorite classes, User Instruction, really shaped how I explain complicated problems at work.
Is there anything you wish you had done while a student at Simmons that you didn't do?
Overall I am very satisfied with the education that I got at Simmons, especially because the DYO track let me explore so many of my interests. I do wish, however, that I had been able to take the Physical Preservation course and the Digital Stewardship course. They both sounded really cool!
What is the best study hack you learned to use while a student?
Taking snack breaks! These short, small breaks really helped me to power through the last few months of the program when I was also working full-time.
Are there ways you find yourself involved with the library community now that you've graduated from Simmons?
I find myself on Library twitter a lot since I'm obviously still very interested in all things happening in the library world! I also really enjoy getting to use my own local public library. Even though I'm not there now, I could see myself working in a library setting in the future too. Just because I'm working in a corporate information setting doesn't mean I see myself as exclusively a corporate worker. What's been the most fun is interacting with so many members of the SLIS community who are now practicing librarians in the Boston area! I seem to bump into them throughout the city and really value that sense of greater community with those who graduated from Simmons before me.