Welcome New Blogger – Amie Grosshans
Posted February 15th, 2019 by Lindsey Clarke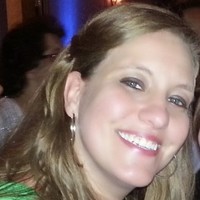 Hello readers! We'd like to introduce our new student blogger — Amie Grosshans! She will be posting regularly soon.
Read a little bit about her below:  
Welcome Amie! 
Hi, I'm Amie! I was born and raised here in Massachusetts and have a master's degree in Art History. As soon as I read about Simmons's LIS program, I knew that I wanted to be a librarian. It's a bit of a shock to be back at school again after almost twenty years, but I'm loving every minute of it. I'm finally in my element and so excited for the future. I'm currently in the archives concentration but am open to exploring other areas of librarianship.
When I'm not working or doing schoolwork, I'm usually reading or listening to an audiobook. I also love to knit shawls, sweaters, and socks and am pretty much never without my needles. My handknits make the crazy Boston winters a bit more bearable. Aside from my family, my dog Peggy is my biggest supporter and study buddy.