Typical Week in the Life of a SLIS Student
Posted April 21st, 2021 by Isabelle Raposo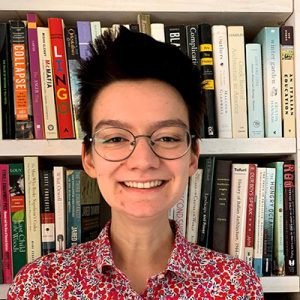 There are only five weeks to go until the end of the semester, and at this point I feel like I can present a pretty accurate view of my typical week! There are two basic genres of LIS program schedule blog posts: working full time while in school and working part time. This is the former.
For the sake of simplicity, I've left my work every weekday from 8:30-5:30 off this schedule (see Tuesday for the exception to this). Typically, I take a full hour for lunch three out of five days a week and a shorter break the other two days.
I've also left out most errands, cleaning, and my social life, but I usually have way more time than you would think to spend quality time with other people (safely). My social network in Boston includes a lot of people I've met through Simmons. I also get enough sleep!
Monday:
5:30-6:00: Go for a short walk.
6:00-7:00: Standing meeting with my group project team for Systems Analysis and Design.
7:00-7:30: Homework.
7:30: Dinner while chatting with my roommate. While I'm in this schedule crunch, I'm intentionally cutting back on the amount of time I spend cooking. This has been hard, because I love to cook. On the other hand, I'm still eating delicious food for almost every meal. Making easier meals that rely more on prepared and frozen foods leaves more time for relaxing and socializing, but I'm excited to really get back in the kitchen after graduation.
Tuesday:
8:30-4:30: Work. I make sure to take a full hour for lunch on Tuesdays so that I spend the minimum amount of time at my desk.
4:30: My Tuesday workday ends with a 30-minute "coffee break" on a call with my team. For a minute here I have both my work laptop and my own laptop open on my desk, so I can log in to class right as the coffee break ends.
5:00-7:50: Class (Conducting Research), including a 15-minute break sometime in the middle. I try to relax and set up dinner during the break to eat during the second half of class, or I start to crash before it ends.
Wednesday:
5:30-7:30: Dinner and walk outside (I live near multiple amazing parks!).
7:30-9:00: Homework, typically for Principles of Management or Systems Analysis and Design.
Thursday:
5:30-7:00: A walk and dinner while talking to my roommate.
7:00-8:15: Meeting with my fantastic research partner for Conducting Research to plan and do work for our project.
Friday:
5:30: It's officially the weekend! So far, I have never done homework on a Friday night. I'm very protective of this time.
6:00: Grocery shopping and dinner.
Saturday:
2:00-5:00: Homework and writing my weekly Snippets post.
Sunday:
3-4: Homework.
4-5: Meeting with my research partner. This doesn't happen every Sunday, but I do sometimes need to schedule a meeting for this or another collaborative school project on the weekend.
This is just one way to handle working and being a student full time, and you can find other people's schedules on sites like Hack Library School. I choose to relax more on weeknights and spend more time doing homework on the weekends, but it could easily be the other way around.