Goodbye 2020, Hello 2021!
Posted February 3rd, 2021 by Sarah Callanan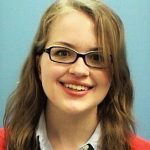 Happy 2021 everyone! We've had a nice, long break, and the Spring 2021 semester starts this week. With the end of the Fall 2020 semester, I completed three years at Simmons! Can you believe it? I now only have three classes left, and if all goes according to plan, I will be graduating in December! The end is in sight!
After completing my first two years at Simmons, at the end of each year I did posts of the lessons I learned, and some of my takeaways from the program, so I thought I would do it again! Third time's the charm!
I learned so much in 2020! I took three classes—LIS 453: Collection Development and Management, LIS 475: Organizational and Information Ethics, and LIS 454: Digital Information Services and Providers. I learned how library collections are developed and maintained and I got a thorough understanding of the collections process in LIS 453, I learned all about information and organizational ethics and the ethical implications of decisions within organizations and management in LIS 475. And, most recently, in LIS 454, I learned all about different types of databases, search strategies, and about the roles and duties of being an electronic resources librarian. I've been exploring new things about the world of LIS, and I love it!
I've learned how to be adaptable! I've always considered myself a pretty flexible person, but this past year has taught me, like everyone else, a lot about adapting to the situation at hand.
2020 was the year of Zoom and videoconferencing! I really hadn't been a big Zoom user before 2020, and now I use it all the time!
I took my first "live" class! LIS 454 was supposed to be in-person in Boston, but then the pandemic happened, and we adapted! We did it over Zoom! I absolutely love "live" classes! I'm taking another one this semester! While I've been taking mostly asynchronous online classes throughout my time at Simmons, and those classes are fantastic, the "live" class last semester really highlighted one of the things I was missing out on, which was seeing and interacting with other people in real time. Also, LIS 454 is a wonderful and important class, as electronic resources are essential, and if you have the opportunity, take this class!
Interacting with fellow students and colleagues, participating, and getting involved is so important, especially during the pandemic! First, getting involved and participating helps you feel less isolated. Also, there are some excellent virtual activities and programs out there! If you are looking for a way to get involved and interact with fellow students virtually, one way is sign up for one of the student associations through Simmons such as SLA, LISSA or ASIS&T! They are sending out emails to stay connected and keep you informed of virtual programs and meetings, as well as other opportunities. Also, the SLIS Student Service Center sometimes sends out emails for virtual events, such as last semester's virtual "How to Find a Job During the Pandemic" alumni panel. I'm also staying connected to the profession by being a member of ALA, ACRL, MLA, and NELA, and this month I'm doing a trial membership of the Medical Library Association. Most professional associations have student memberships, so take advantage while you can!
I attended some virtual conferences! I virtually attended ALA Annual last summer, and I virtually attended ALA Midwinter over the break. Even though the virtual conferences are a very different experience than the in-person conferences, the experience is really valuable and fun, and you have access to them for a while after the conference ends! I really like the virtual conference format, and I'm hoping that virtual conferences stick around, because it opens up a lot of things that weren't an option to me in terms of location and finances.
I've learned to make the most out of my time at Simmons. This was on my list last year, but it's especially true now that I only have three classes left! There's so much I want to do and accomplish before I graduate, and so many classes I want to take, but I can only take three! I want to make the most out of my experience while I'm here!
Anyways, I hope everyone had a safe and wonderful break, and I hope that 2021 is going to be an improvement on 2020. I will have started my new class, LIS 621: Conducting Research by my next post, so I'll tell you all about it. Stay tuned!
P.S. Welcome to Student Snippets Isabelle!