End of the Semester
Posted December 7th, 2020 by Peggy Hogan-Rao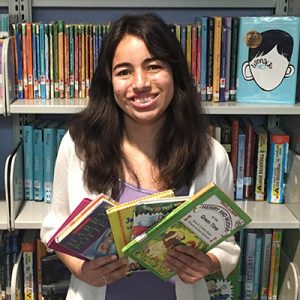 This week has been crazy busy, especially Wednesday. For my first time working almost full time while in grad school, balancing school and work this semester has been hard. And this struggle is only with only one class! Next week is my last weekly meeting for the semester-long group project in my Information Services for Diverse Users course. This project has been an interesting study on how to work with the information needs of those who have low digital literacy skills.
Work at the elementary school library is now very busy. Instead of 3-5 kids having library class once a week and checking out books during library class, kids get a book as soon as they return a book. So, if a student returns a book they finished reading on Tuesday, then they will get a new library book when they are back in school on Friday. This is more work for me and keeps me running down the halls to bring books to each of the classrooms!
By the time I finished running around my elementary school delivering books and the group project meeting after school, I was exhausted and quite literally had to rest with hot tea all night until I felt better. With this final project due on December 14th, I really need to start working on the final research. Although making time for the readings in the course was sometimes a challenge with work during the day, I loved everything I was reading about in the class. There was a moment last week when I was visiting family for the holiday that I told my dad "I know I'm in the right course because I love everything that I am reading."
The good news about the semester coming to an end is we get a bit of a respite after all this hard work. I may only get a week off for work, but I will take every day of that break to relax. As for the Simmons calendar, due to COVID and the no spring break this year, the spring semester starts on February 1st. This is a very long break for the graduate students at SLIS. I will enjoy having my evenings free to calm my mind and body after doing book checkout all day.