Skills learned from SLT
Posted October 21st, 2020 by Peggy Hogan-Rao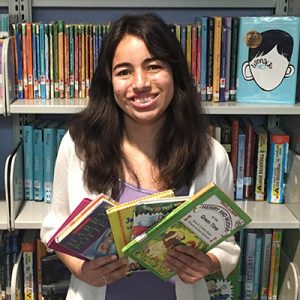 I am so close to being done with my studies at Simmons. When I look back at my courses at Simmons, I feel like all I want to say is thank you. I have one step into the door of working professional and one foot still in the door of graduate student. As I am slowly creeping into the role of a library teacher, I am using the skills that the Simmons School Library Teacher program has equipped me with to be a library assistant in an elementary school library.
In my LIS 406 course Management of School Libraries, I learned valuable skills in outreach to the community. When you work in a school library, it is good to partner with local bookshops for book orders, but most importantly the local public library. In the school where I work now, we are working very closely with the public library's children's librarian to give children access to information resources.
LIS 461 the Curriculum and Instructional Strategies for the SLT (School Library Teacher) gave an overview of the basics in writing lesson plans, which was then put into action in my first student teaching. As the Kindergarten library teacher, I am doing a lot of intense lesson plan writing. It is certainly a new experience for me. Because I learned about applying the standards and a strategy called Backwards Design in LIS 461, I feel prepared for writing the lesson plans in my current job.
One fun activity I did recently was searching for leaves. They were not hard to find! I taught Kindergarten the difference between fiction (a story) and nonfiction (true facts) using the theme of books about Autumn – all about leaves. The Kindergarten kids loved it when I brought in real leaves. This time of the year is so beautiful, and where I live in Newton there is a swimming pond and a park with woods.