Being Positive
Posted April 24th, 2020 by Peggy Hogan-Rao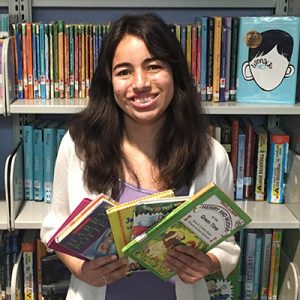 It is the last two weeks of the semester, and I must admit I'm getting excited for it to be over. One thing I've learned for sure this semester is that student teaching is a lot of work. If I am struggling doing two lessons in one week, I'll certainly be up for a challenge when I have 20+ classes in one week for grades K-5. Because I'm graduating in the fall, I have had to figure out how to record my lessons and teach virtually. But I have had tremendous help from my supervising librarian and practicum supervisor in decoding virtual teaching!
Trying to think on the positive side of these difficult times, my LIS 460 technology course has taught me a lot about digital tools to use for teaching, which comes in handy when I need to record videos. Technology is so important in times when schools are closed. When recording videos of an activity such as how to use a database, I will be using a screencast program such as Screen-Cast-O-Matic or Screencastify. For instance, today I did a classroom observation for practicum by participating in a Google Meeting. It's been great to put what I've learned into practice in the context of virtual teaching. One thing that my friends and my mom remind me is learning how to teach virtually and teach in person is going to be a big asset as I start my career as a library media teacher.
Another technology that has been amazing in this time is Zoom. I have used Zoom for a tutorial on cataloging, and meeting with my practicum supervisor just last week, which was super helpful. Another way I will be using Zoom for school this semester is to have a meeting with the Simmons Career Education Center (CEC) to update my library resume. I love how the CEC at Simmons is still finding ways to make themselves available to all students at the university, including graduate students and alumnae. Once I have my resume updated and my last three lessons done, I will be just about finished with student teaching.
My next step when the semester ends will be finding a practicum placement in a secondary (grades 7-12) school for the fall. This will be a bit tricky, as schools most likely won't re-open in MA for this school year, but I will try to figure this out. Between course registration for the summer and fall, trying to get a school placement for the fall, and learning to do lessons virtually, everything seems new. I take comfort in knowing that these are new experiences that many people are struggling with, and not just me!