Everything Changed
Posted March 20th, 2020 by Peggy Hogan-Rao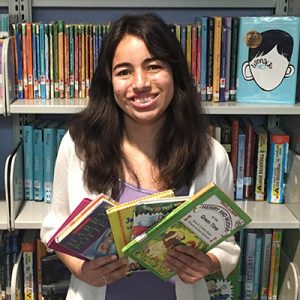 I almost cried on Monday the 9th when I found out that the St. Patrick's Day Parade was cancelled. My week did not get better from there. Of course, I watch the news and saw that a Corona virus was proving to be deadly in cruise ships, China, and Italy. I had student teaching last week. Tuesday was a normal day in the library, checking out books and doing read alouds with the K-2 grades. Wednesday was also pretty normal. There were no updates from the school and I went about my day as usual.
Thursday came along and everything changed. I wore latex gloves when handling books, which definitely felt weird. I spent my day disinfecting books, laptops, tables, and everything in the library. Kids could not sit on the cushions for the reading nook. For a few minutes in the morning, the librarian was afraid the principal would tell her it was too dangerous to check out books. At the end of the school day on Thursday, one of the other teachers told the librarian to bring everything home as if we were not coming back to school the next day. March 12th was the last day of student teaching. Looking back, it is hard to believe that just a week ago, I was smiling and helping kids find books.
One of the biggest issues in schools right now is how to keep the students learning at home. This certainly is not a school break like winter break in February or summer vacation. In times like this, kids are not able to have playdates, and only can play with their siblings. Boston Public Schools were able to give students devices so that teachers can still give remote teaching, but not every district is that lucky.
This is when librarians come into play. Library teachers can share resources for online educational resources for parents. And it is the library teachers who post links to virtual museum tours and authors doing readings of their books on the school library social media or on the school website. For example, here is a link of different authors who are also staying home and trying to help their readers that I really love. 
Kids need access to books and learning, especially during this hard time. Social distancing makes teachers, parents, and kids rely on technology even more than when school was open. Library teachers are the experts who are still finding ways to bring learning and reading to kids who may not have devices or may not have any lessons to work on. And yes, I miss those kiddos I used to work with every day in student teaching!