School Library Teacher Life
Posted February 14th, 2020 by Peggy Hogan-Rao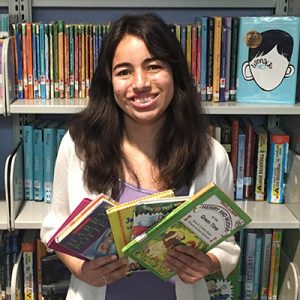 So far, my student teaching experience is showing me that in order to work in a school, you really need to love what you do. The passion and dedication to this profession that I see in each of the teachers is incredible. I've also found that each day I learn something new from the kids. I tried teaching a lesson on kindness and a kindergarten student reminded me that it is good to have confidence in yourself. When I have trouble balancing doing chores in my house, and a fifth grader reminds me how important it is for everyone to help clean, that really resonates.
Another example of these amazing children is that a group of fifth grade students have a book club, which participates in fundraising. Before they start reading a new book, they do a service project to raise money for children living in a homeless shelter, who don't have books. Most recently, these kids were able to purchase 60 books to be delivered! How amazing is that? In case your wondering, the book club just finished reading The Bridge Home by T. V. Padma.
Balancing my technology class with student teaching is a struggle, but luckily I have next week off from teaching. I will spend the week working on my portfolio notebook that I submit to the Simmons SLT program director Melanie Kimball at the end of the semester, as well as working on small projects for my technology class. The LIS 460: Technology and the School Library Teacher course, is tailored for the needs of library teacher professionals. Next week will also be nice because I have a friend visiting from out of town to spend a long weekend in Boston. Being in the final year of the school library program keeps me busy, but as I said before you really have to love what you do. Each day of student teaching, I know this is the right career for me.