A Day in the Life of a School Library Teacher Student
Posted January 17th, 2020 by Peggy Hogan-Rao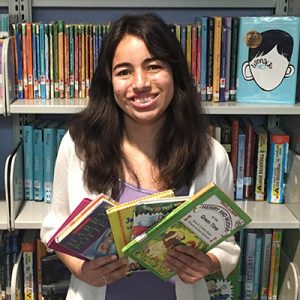 It's the first week of classes, and yet all I want to do is stay under my blankets near the furnace. The average temperature in Boston right now is in the single digits, with the high being 15 F. This is Boston in January, I guess. As much as I want to stay under my blankets, I need to clean off my desk and sort through all my reading. For a library school student, you may be surprised to hear I am reading a guide on student teaching (also called Practicum Experience) requirements, CAP Guidelines as assigned by Massachusetts Department of Elementary and Secondary Education (DESE), the Evaluation for Educators regulations as set by DESE, Waltham Public Schools' Kindergarten Curriculum for Information Literacy, and a syllabus for my online SLT Tech class. I am almost done with my school library concentration and well on my way to becoming a certified school librarian.
My placement is at a school in the far north part of Waltham, so a bit of a trek. Getting out to Waltham would be so much easier with a car, but I get terrified when I am driving. I know others who have a fear of driving, so that's why I like living in Boston. The bus route near where I live is almost always reliable, and most of the bus drivers are very nice folks. The only issue is the direct bus from Watertown to North Waltham is no longer a route, so that complicates my commute a bit.  
The moment I stepped into the library at my school, the librarian asked me to dump water out of a bowl. As soon as I did that, I had to resolve an argument with two little Kindergarten kiddos. Then, I was finally able to go behind the desk and look around the library. A few Kindergarten kids kept asking the librarian if they could stay longer to read. The kids didn't want to go to lunch – they'd rather be in the library. Just hearing those words and watching all the little ones sit in tiny chairs with books in their hands made me smile. I know I am in the right career.
After an hour visit of planning events at the school library, and lessons I need to teach for the practicum requirements (there's a lot of them!), I started my trip back to Boston. I took an Uber to Watertown to then wait for my bus. Just then, a sudden gust of wind came in. I love wearing dresses and skirts, especially skirts that go to my knees or long-sleeved dresses. I'm learning that dresses in winter is a bad idea because it is dreadfully hard to find good stockings that can keep my legs warm. Now I got to get back to all that dense readings I mentioned, so I can be ready for my first day of practicum next Tuesday.