End of the Semester is Coming!
Posted November 14th, 2019 by Peggy Hogan-Rao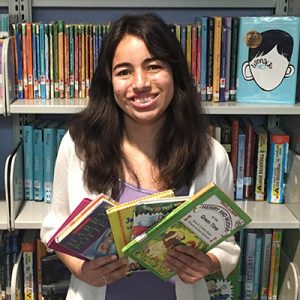 It's getting to the end of the semester, which for means lots of school visits for someone in the School Library Teacher program like me. I started off my week at Watertown High School early on Monday morning. Even with leaving my house a little after 7:00, I didn't get to the high school library until almost 7:45. Surprisingly, the library was quite crowded! I spent a few hours taking notes on how teens were using the library for an assignement for my YA Library Collections class. It was interesting to see that no students were checking out books, but rather making use of the technology resources in the library. Some of the technology that I observed students using were Vinyl sticker printers, 3-D printers, poster printers, copiers, Chrome Books, and Chrome Book chargers.
 My Tuesday was not spent at a school, but I did make a quick visit to the public library in my neighborhood's town square. I visited the children's librarian there, who helped me to find some more nonfiction picture books in preparation for my Wednesday Writing for Children class. I also checked out some middle grade children's books for an annotated bibliography project I have due next week for the same class.
 With the semester coming to a close soon, I need to start getting ready for practicum next semester. A student teaching practicum is the end of program capstone requirement for school library teacher students at Simmons, so I will start an elementary library placement in January. Before I start my practicum, I want to observe my library teacher/mentor working with all different grade levels. On Wednesday I got to observe my mentor working with grades 3 and 5 at an elementary school in Waltham. I got to see students eager to participate in class discussion and students getting excited about reading.
 One really nice thing about doing the practicum in the spring is that it is one less thing to worry about during course registration time. The Program Director, Melanie Kimball, registers all SLT students for their practicum in early December, so all I have to do is register for one course at my assigned registration time. Getting ready for practicum is a lot of work, but I am looking forward to getting experience in a school library.