Happy (almost) Halloween!
Posted October 30th, 2019 by Sarah Callanan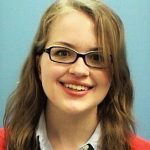 Happy (almost) Halloween everyone!  You know, I really think time seems to fly by much faster when you are in school.  During the short breaks between classes, time goes so slowly but now it feels like just yesterday we were starting classes, and now it's almost Halloween. 
So we're starting Week 9 of the Fall 2019 semester this week!  This week we're focusing on Evaluating Information Services, which is a really important topic, and it's really interesting too.  I've been excited for this week since I saw it on the syllabus–the library I work at did a Library Experience Survey last spring, and hearing about it and the methodology behind it has made me really interested in evaluation.  Every library does evaluation and it's really been interesting to learn more about this topic, and I think I'm definitely going to add LIS 403: Evaluating Information Services to the list of classes I want to take before I graduate.
This class has been really interesting so far!  Some of the other topics we've learned about include LIS as a Profession, LIS as a Discipline, History and Evolution of LIS, What is Information?, Human Information Behavior, LIS Interactions with Information, and User Services.  Similar to my other online classes at Simmons, there are online activity forums each week where we get to participate and interact with our classmates, which is really nice!  Our forums are pretty active, which is great because in a lot of online classes the forums are your only real interaction with your classmates.   Also, in most, if not all, of my online classes at Simmons there has been a "Learning Commons" forum on the class home page of Moodle, where members of the class can, but are not required to, ask questions, post things, and interact with one another in a less structured way.   During my time at Simmons, this forum hasn't really been used much, if at all, in most of my online classes, except for this class and my LIS 488: Technology for Information Professionals class that I took last year.  It's really nice to see my classmates interacting with each other, asking questions, and helping each other out. 
I hope everyone has a fun Halloween!