Librarians are Resources!
Posted October 24th, 2019 by Peggy Hogan-Rao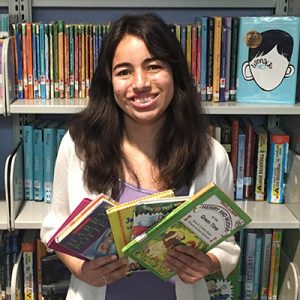 My assignment for yesterday was to bring a picture book of my choice that was published within the last five years, along with 6 assigned picture books, to my Writing for Children class. To prepare for class, I went to my local branch of the Boston Public Library. The children's librarian there is very helpful for students of all ages. She is a Simmons grad and loves working at the library with the youngest patrons. This is just one example of how everywhere I go in the Boston Public Library – whichever branch I visit – I find a Simmons grad. Hoping to utilize the expertise of the librarian, I told her that I needed an exemplary picture book written in the last five years. I was hoping for a book that could teach me about a picture book's narrative structure. 
The children's librarian searched for notable picture books from 2018, and suggested A Perfect Day by Lane Smith: a hilarious book inspired by animals visiting the author and illustrator's backyard. Knowing I had a knowledgeable children's librarian to help me made this assignment feel so much easier. I went home that night to read my seven picture books. In reading the books, I found my notes from LIS 481: Library Collections & Materials super helpful. Looking back at these notes made understanding the context of the words with the illustrations much easier. Because there are some SLIS students who are dually enrolled in the LIS and Children's Literature degrees, many courses pair together or cover similar concepts.
Going into class yesterday, I knew that only one other student in my Writing for Children class was also in the SLIS program. Many of my classmates shared that they had struggled with finding a picture book published within the last 5 years for this class. Reflecting, it seemed like I was the only student who went straight to the children's librarian to ask for help. I did this because a strong knowledge of the collection and reader's advisory (i.e. recommending materials) are necessary skills for a children's librarian. I went into class yesterday with A Perfect Day on my desk, and my writing professor immediately recognized the book as a well-written story for kids. Now that I've spent a few hours reading through my LIS 481 notes and reading picture books, I think maybe it is time for me to write my own draft of a picture book!