Classes and Events at SLIS
Posted October 17th, 2019 by Peggy Hogan-Rao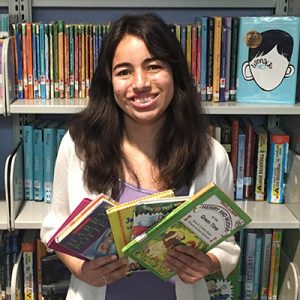 It's that time in the semester when all you do is study, eat to take a break from studying, and try to get in some sleep.
     As a library student in the SLT school library program, I need to start preparing for next semester. Next semester, I will be doing my first of two practicums, which consists of 150 hours of student teaching in an elementary and then high school library. I have the placement school picked out, and in a few weeks the paperwork will begin. With my classmates figuring out their course preferences for Spring 2020 registration that happens in a few weeks, it is nice for me not to have to worry about what courses I will be taking. Those in the School Library Teacher concentration at SLIS plan out their course outline in their first semester, and will stand by that course outline as they make their way through the program.
   The first course I am taking this spring will be a Writing for Children class in the Children's Literature department. This will count as one of my two electives. I will get to take the other fun elective in a future semester. My other spring course will be LIS 460: Technology for School Library Teacher students. It is a special technology course taught by a current high school library teacher meant to prepare SLT students for the field.
   Right now, my social life is mostly line dancing at Loretta's Last Call, studying, and reading lots of YA books and articles about how to serve the teen populations in libraries. In my LIS 483 class, I learn so much about how to serve teens in libraries, while in my Writing for Children class, I learn how to write books for them. As we near the end of the semester, it is time to start thinking about the big papers. It is week 7, and my professors are preparing us for the big projects we will be doing in the last half of the semester.
   This week has also consisted of a lot of emails planning for an event at Simmons in two weeks hosted by SCIRRT (Student Chapter of the International Relations Round Table. I am currently the only SCIRRT officer for our SLIS student chapter. This event I have been working on, hosted by SCIRRT, is specifically geared toward SLT students. A Simmons SLIS grad, Maya Bery, (also a former SLIS Admissions blogger), will be coming to give a presentation at Simmons on October 30. She will be giving a presentation titles "Bringing the World to Your Classroom," on how we can make learning more global in the school library. Bery is a successful school library teacher in Carlisle Public Schools, and presented this past April, on this topic at MSLA (Massachusetts School Library Association conference).  Student leadership is a great opportunity for SLIS students who want to get involved in planning events that they think will interest students and will help students build their professional knowledge of the library science field.
  Now it's time to enjoy the windy weather and soak in the beautiful fall colors in Boston.