Connections and Libraries
Posted October 3rd, 2019 by Peggy Hogan-Rao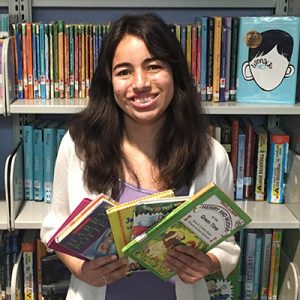 With a big paper due this week, I knew I was going to need a few study breaks. On Tuesday night, I went back to Loretta's for a good workout of fast-paced line dancing. Wednesday was a busy day for me with meeting with a professor for my paper due this week, class, and then a conference called Connect Boston. The first conference of its kind, Connect Boston has a goal of connecting Catholic young adults to like-minded professionals around the Boston area.
The event started with opening keynote speeches from the founder of Young Catholic Professionals and the CEO of the Fellowship of Catholic University Students (FOCUS). After these two opening talks, there were breakout sessions for networking with Catholic professionals in similar fields. As a school library student, of course I went to the education panel. As I expected, I was the only library student in a room full of teachers. The three panelists in my breakout session were a constitutional law professor at Harvard University, the headmaster of St. Benedict Classical Academy in Natick, and the headmaster of St. Sebastian's School in Needham.
After the panelists talked about their education backgrounds and the importance of their Catholic curriculums, I stood up and asked a few pressing questions: Do the two Catholic schools have libraries? If so, what are their collections like?
First, the headmaster from St. Sebastian's School said that as much as he believes the Catholic faith is important, he has also ensured that his school has a large library with a diverse collection. Headmaster Burke stated that he believes in having many different perspectives offered in the library collection. After answering my questions, Headmaster Burke said we need more passionate librarians, and applauded me for my work.
The headmaster of St. Benedict's Classical Academy talked quite a bit about how he has just acquired a new space for his school's campus. In acquiring this new space, he had to choose an architect and make a list of things he wants in the new school building. Thankfully, a library was at the top of this list. One of his prospective architects tried to tell him "You don't need a library in your school," clearly not understanding the purpose of libraries. With that comment, the architect lost his potential gig. Hearing this headmaster refuse to work with this close-minded architect gives me hope that administrators still see the need for school librarians, as there will always be a need for information and technology professionals in schools.
Hearing about collaboration in the library space and the need for modern libraries from the two Catholic headmasters just reminded me that the scholarly articles I read in my school library program classes are relevant to the field. Spending my Wednesday night at Connect Boston was a clear reminder that Simmons is giving me the education I need to feel comfortable making networking connections with both fellow library teachers and school administrators in the Boston area.