Lots of Reading
Posted September 27th, 2019 by Peggy Hogan-Rao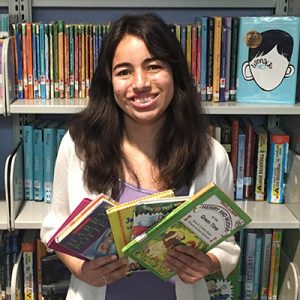 I was very busy this past weekend getting readings done, and my first written assignment for my YA Library Collections class was due on Wednesday. The assignment was to read a Young Adult book. Figuring out what is Young Adult is the hard part. I went to talk to my local children's librarian at the neighborhood branch of the Boston Public Library, and she showed me her recommendations for good YA books in the collection. Sitting down with the pile of books, it was hard to choose just one. Instead, I chose to read one for the assignment and bring two other books home to read later. Spending all weekend reading Yaqui Delgado Wants to Kick Your Ass by Meg Medina was quite fun, especially when you can lounge in the library's comfy chair. But after reading that, I realized I have another task to do. 
   When I was in the library this weekend, I saw a teen hanging out in the adult section and the teen section. I asked her to show me what books she likes to read on the shelves, which got her very excited. She showed me a few different authors that I didn't recognize, and it was nice to see this teenage girl so excited about reading. I then told her I am plotting an outline of a YA story for my Writing for Children class. Sometimes it is the little things that remind us why we are going into a career, for me, serving library patrons.
  Monday afternoon, I went off to Simmons' Boston campus to work on a project in the SLIS Tech Lab. This project is something I wanted SCIRRT to do for Banned Books Week. Banned Books Week ended today, and it is a week to celebrate the banned books in America. To recognize Banned Books Week, I did research on banned books from around the world. Printing out trivia questions about different countries, I scattered these fun facts on colored paper all around the SLIS Lounge. My goal in doing this project is to promote diversity and awareness of how books are censored in Asia, the Middle East, and Europe.