Who Knew Fidelity Investments has a Library?
Posted September 6th, 2019 by Maria Reilova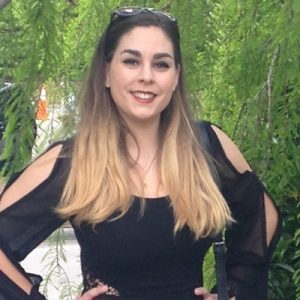 Hello, Student Snippet readers! Long time no see(read?)! Happy start of the new semester, I have had one of the busiest summers of my life this year. For a quick recap: I had to put my on-campus job in the SLIS admissions office on hold since I was working at Fidelity Investments full-time as their Research Services Intern, while also taking Metadata online which was offered this summer as the SLIS travel course to Yonsei University in South Korea!
Since I could write about my trip to South Korea for ages, I thought I'd focus my first "back-to-school" blog post, on my internship this summer. I found and applied for my summer internship using the SLIS jobline. I was fortunate enough interview, and be offered the internship at Fidelity Investments in Boston, where I would be working with their research services team. Now I'm sure I am not alone in that I had no idea that Fidelity even had a library, and with it some super cool librarians! Because it was a corporate library, the job came with some cool, hip corporate lingo too, we weren't reference librarians, we were information consultants. Functionally though, the work I did wasn't very different from other libraries it was just mainly focused on finance and economics. As someone with an art history and non-profit background, I was honestly quite terrified of working there, I did not feel qualified to handle reference questions about factor investing but spoiler alert: I handled it! I answered reference questions on all sorts of topics like when people buy furniture or which grocery store chain has the highest market share in New England. I also cataloged/checked-in new books and periodicals to the physical collection, and helped with content management of the collection as well.I also learned some sweet, sweet excel skills through this internship; and nothing makes me feel more like a wizard than data organization and visualization in excel with charts. 
I really loved the time I was able to spend at Fidelity and this internship really helped broaden my horizons on different career paths in librarianship. If you had asked me last September, when I was first starting the program if I would ever see myself working in a corporate library I'd probably just say a quick and simple: no. But, it turns out, I really loved it from day one! Most of the people I worked with there were Simmons grads, and it really felt like a great community. My takeaways from this internship were ultimately that I am capable of more than I lead myself to believe, and that my library science degree is applicable in more ways than I could have ever imagined!