Summer Life
Posted July 29th, 2019 by Peggy Hogan-Rao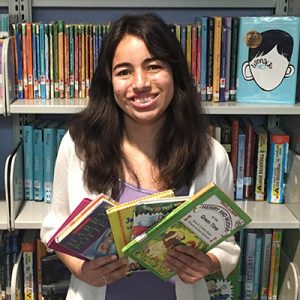 It's hard to believe that July is almost over! I've kept busy this summer with studying, even though I am not taking any summer classes. I took the reading MTEL Communication & Literacy Skills subtest in June, and I have the writing exam next week. The MTEL Communication & Literacy Skills is an exam SLT students need to pass before they can do their last two semesters of practicum experiences (student teaching). Luckily, I saved my eighth grade grammar textbook and brought it out to Boston! Princeton Review has been very helpful in my studying. I also listen to a podcast called Grammar Girl to review the basic grammar rules.
When I am not studying, I've been applying to part time jobs in the fall. I've applied to a few at Boston Public Library, one at Cambridge Public Library, and a couple of library assistant positions in local school districts. With six library job applications submitted, it is waiting time. Waiting to hear back is definitely the hard part, but at least I can catch up on fun reading while I am waiting. Speaking of reading, the best part of my summer so far has been visiting Ireland for a couple weeks, which included checking out some libraries!
I went over to Ireland to volunteer at a Catholic summer camp, and after camp concluded, I visited friends. In undergrad, I studied abroad for a semester in Galway, Ireland, but this was my first time back since studying abroad. When I visited friends in Cork, the library student in me definitely wanted to see the library, and even do a little networking. The first day in Cork, my friend Jack showed me where in the city the library was so that I could go visit the library on my own the next day. It was huge, but not as big as Boston Public Library's main branch!
Getting to go inside the library was quite exciting. When I first walked in, the children's room was on the left. It was really nice chatting with the children's librarian there, and bonding over how we both share a passion for encouraging children's love of reading. In the library collection, there were children's books by authors from the United States, Ireland, and the UK. After exploring the children's room, I was already brainstorming ways to learn about library services in Ireland, as well as how we can make learning more global for students visiting their school library. Showing students children's books written by authors from other countries can help the students learn about different cultures and expand their imaginations. I look forward to the next time I can visit a library in Ireland, but for now I am studying hard for my MTEL Communication & Literacy Skills exam next week!