Reading and Volunteering
Posted May 20th, 2019 by Peggy Hogan-Rao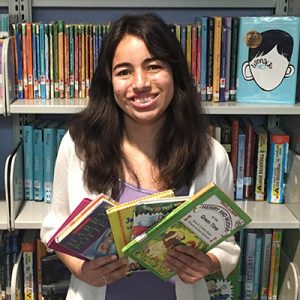 It has been about two weeks since classes ended for the semester, and I celebrated with friends last Thursday in a bit of an unusual way: by giving out food to the homeless.
 Back Bay Mobile Soup Kitchen is a group organized through St. Clement's Church, located on Boylston Street in the Back Bay area of Boston. A couple of SLIS friends and I met at six a.m. in front of the church, and we prepared to go out into the streets. Carrying bags of bananas, granola bars, sandwiches, socks, and water bottles, the group of us enjoyed conversations with the people we encountered while handing out whatever they needed from the items we had on hand. I hope to volunteer with Back Bay Mobile Soup Kitchen on a weekly basis this summer. Back Bay Mobile Soup Kitchen is just one way to get involved in volunteering when I am not swamped with studying.
 After my friends and I volunteered in Back Bay, we went out to dinner in the Prudential Center. The Prudential Center is a huge mall, and there are many places to eat there, such as Eataly (a high-end Italian market and food court) and the Cheesecake Factory.
 Not having to do much studying until the fall, as I chose not to take summer courses, I am catching up on so much reading. The convenient part about living in Boston is that there are public libraries in every neighborhood, and it is easy to walk to a nearby library. I check out at least four books a week, and am still reading the children's books from LIS 481: Library Collections and Materials for Children syllabus. It's fun to see what teens and children are reading, and how I can get to know the reading interests of the groups I hope to serve as a librarian.
 I recently read this really interesting book about a girl transitioning back to middle school life after two years of leukemia, called Halfway Normal by Barbara Dee. It was a good read, and supports the argument that children should read books with serious topics. Next up on my reading list is the very popular book The Hate U Give by Angie Thomas.