I Can't Believe How Many Books I've Read!
Posted April 26th, 2019 by Peggy Hogan-Rao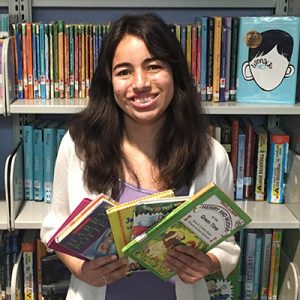 Reflecting on the end of the semester, I keep thinking 'I can't believe how many books I have read!' I created my goodreads.com account in December or November, after hearing about a local high school librarian who used it to track books she read. I thought it would be good to set a goal in January, around the time of the new year. This was before I enrolled in LIS 481: Library Collections and Materials for Children. I thought to myself 'I'll create a goal of 50 books. It'll be super hard to read 50 books by the end of 2019.'
Well, our final reading journal assignment in LIS 481 was due a few days ago. I checked my Goodreads account, and I have read 31 books so far. Wowza, that's a lot! Want to know the secret? In Library Collections and Materials for Children (a required course for anyone in the School Library Teacher Concentration or Children's Literature Dual Degree) we are required to read 27 books throughout the semester. Children's literature qualifies as anything for babies up to age 14. We started the semester reading board books and picture books – easy reads right there! The semester ended with popular series book and an audio book.
Looking back on starting my 2019 reading goal, I wish I read the syllabus first. I registered for classes last November, so I was well aware that I was taking this course. I didn't know there was a way to look at the required reading list before the semester started. After course registration that my advisor showed me a whole wiki site for the SLIS syllabi. Once you log in with your Simmons credentials, you can view syllabi for any course in the SLIS program dating back a few years. As crazy as it is to think about how many kids books I've read this semester, I definitely know I am going into the right career. I loved every reading assignment in LIS 481! It was always fun to try to read like a kid opening the book for the first time. In a year or two, I will be sharing the joy of reading with children in a library every day, and loving every minute of it.