Jobline for the Win
Posted April 8th, 2019 by Katie Carlson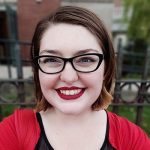 Somewhere along the way, I seem to have decided that I had too much free time as a full time student and part time employee. Looking towards the summer and itching for some real world library experience, I was trawling through the weekly Simmons Jobline posts for something that might fit. A few things caught my eye, but I knew my resume could use a revamp.
Luckily for me, Maria's post in December about meeting with Amy Ryan (former President of the Boston Public Library) for resume help gave me with the motivation I needed to meet with her myself. I was still somewhat intimidated, but went in with high hopes. Together we tore my resume to shreds, then let a new and improved one rise from the ashes! Amy was simultaneously so approachable and knowledgeable! I left feeling armed with a rad resume.
Apparently the Watertown Free Public Library felt the same! I submitted an application for part time circulation work (as advertised on the Jobline) as soon as I'd made the edits Amy suggested, and was called for an interview a few days later. It was great to visit a library so packed with Simmons alum-librarians. I did my version of a touchdown dance waiting for the T when they called to extend the job offer!
Completing the onboarding for the WFPL job, I thoroughly enjoyed the training videos featuring people with thick Boston accents. As someone who has only had 'real' employment in New Jersey, it was a "We're not in Kansas anymore" moment for sure!
I should be starting the circ job in a few weeks, and can't wait to put what I'm learning in my classes into practice! I somehow also managed to snag a nannying job watching some super great kids, so this is the story of how I went from one job to three in the span of a week. Wish me luck. I'll let you know how it goes!