Senioritis
Posted April 4th, 2019 by Megan Ondricek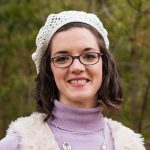 If you haven't been able to tell from some of my posts, I've been battling an extreme case of senioritis this semester. Now that the sun is out and the birds are singing it has become even harder for me to get down to work. I'm sitting outside right now watching my kids play and I just can't think of anything more interesting to write about. You see, there's a very small part of me that wants nothing more whatsoever to do with libraries, databases, websites, research, emails, and due dates from the moment I turn in my last assignment of the semester. This really is the final countdown for me, and I am so beyond excited to be almost DONE.
Then there's the question, that I've been getting a lot lately, of what I plan to do after I graduate. What I really want to say to people is: "Do I have to do anything after I graduate!? How about just enjoy my accomplishment and not having any more homework?" It's fine, I know what people mean. This reference and instruction internship may have the distinct possibility of turning into a part-time job, and I've been telling people for a while that I might look for part-time work after I graduate. In many ways, working part-time at the Fairfield University library is EXACTLY what I want to do with my degree and I can't think of a better opportunity or situation.
At the same time, I am in the enviable position of not necessarily needing to work to support my family. My husband and I have always felt that the best way for me to support my family is to be at home with the kids while they're young. But if I went back to "just" being a stay-at-home mom (for now), doesn't that mean that all the time, money, and work I put into my degree would be wasted? Well, that's for me to decide. When I applied to Simmons, I had no other long-term goal in mind beyond realizing my dream of going back to school and earning a Master's degree. I will have accomplished that, so maybe it's enough.
Anyway, there are a lot of big life decisions ahead for our family and many factors to consider. Beyond a doubt, 2019 is shaping up to be a momentous year with lots of transitions and changes. I don't know exactly what the next chapter holds, but I do know that I will always feel proud and grateful for all the learning and growth I've experienced during my time at Simmons.