April Showers, Bring Last Half of Semester Jitters (and Good News!)
Posted April 2nd, 2019 by Maria Reilova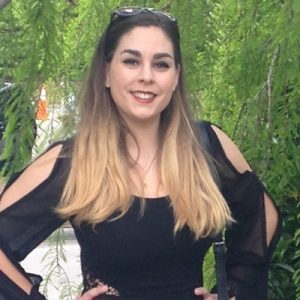 March was a complete blur for me. As cliche as it sounds, I can't believe it's already April! March was a crazy month since it started off with Spring Break and I had some major assignments due. To start off though just a quick, little humble brag about how I was able to go over to Scotland to visit a friend there for spring break in the beginning of March. It was an amazing trip full of hiking, pubs, and castles! Oh, and lots of Highland cows (photos for evidence because it's too cute not to share), which are just as adorable in person! My brain always seems to get a little fried mid semester and being able to take a week to decompression is such a blessing as a student.
Speaking of having your brain fried, this may not come as a shock to many, but grad school is hard, and in my personal opinion graduate level online courses are even harder. So coming back from break was a little rocky at first! Don't get me wrong I love my courses and LIS439 – Preservation Management has been my favorite class so far but sometimes you just need a second to catch your breath! It hasn't helped either that this has been my first real winter and seasonal depression is totally a thing I did not take into consideration. I mentioned in an earlier blog post how with online classes, I really still wanted to make sure I didn't turn in to a hermit and not just sit in bed and do all my work there, but it is really hard to pull yourself out of a funk when you haven't seen the sun in so long.
Luckily for me it is now April and (knock on wood!), Spring is around the corner. I am quickly learning Spring just means a lot of rain for New England, but I will take it over snow any day. With Spring also comes the end of the semester, aka, crunch time. My internship at MassArt has been really fun lately since in addition to creating a finding aid I am now helping my supervisor with an exhibition on studio life throughout the years. We found some really amazing photographs from the late 19th century and it has been really fun helping her set up the display cases and writing the labels for the images and resources.
A final thing that I have been working on this past few weeks has been my application to study abroad in South Korea! That's right everybody, you're girl is going to Seoul! Simmons is offering LIS 445 – Metadata as the SLIS Summer Travel Course, and it was the perfect opportunity since I wanted to take a summer course anyway and LIS 445 was a class I wanted to take eventually! As part of the course we will be in South Korea for two weeks in the end of July/beginning of August. I am beyond excited about this opportunity and am so excited to not only take a course in something I am extremely interested in the field, but also learning about some of the different international perspectives of the field. I also, of course, have plans with this trip to pack a nearly empty suitcase to fill with enough K-beauty products that would put Sephora to shame!