Never Thought I'd See One of Those in an Archive…
Posted February 27th, 2019 by Maria Reilova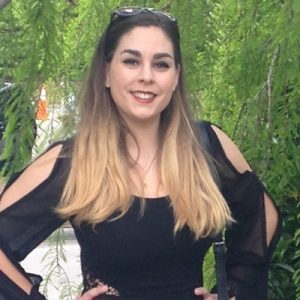 I am now approaching my 5th week of interning at the Massachusetts College of Art and Design Archives and it could not be more of a perfect fit! After graduating with my MSLIS, my dream is to work as an art librarian, so you can imagine my excitement with my placement at this institution! To further sweeten the deal, MassArt is right next to Simmons and my supervisor is a Simmons alum! So easy it is an easy commute and I love hearing about her experience while she was in the program.
Just as a quick recap in case anyone isn't too familiar with how the LIS438 internship works, you are required to complete a 60 hour internship in conjunction with your regular course assignments. The great thing about this internship is that Simmons set it up for you so there is none of that application stress and decision fatigue. I should point out though that the one downside to that is you don't have any say in where you get placed. You fill out a survey where the only real question is whether you have a car, so they can place people to appropriately located institutions.
So given these conditions, I was extremely lucky with my placement! I didn't even have to change the bus I take since Simmons and MassArt are so close (as someone who may never get accustomed to Boston public transit this was a HUGE perk). I have only just started but I know I am going to love this internship. I am working on a small collection of papers from a MassArt alum and faculty member named Theon Cain, who taught from around the 1920-1950s. He was a professor of drawing and perspective so there are a lot of cool sketches among the records as well. But the best thing about this whole collection and my supervisor has told me an intern has never really got to work with before is…a GARGOYLE! That's right there is a gargoyle of Mr. Cain in this collection that I get to process for the archives. It's pretty dang cool. I even got an image from my supervisor to share.
I'm only just starting going through and describing the records in the collection but I already love playing detective and piecing together all the names and publications. I feel lucky to be working with such a small collection because I truly get to look at each individual item and dive deeper into Cain's life not only as a faculty member at MassArt but a student as well.
Another quick plug unrelated to my internship, since Simmons and MassArt are both a part of the Colleges of the Fenway, as a Simmons student we get access to their library system as well! There library is on the 12th floor of their tower building so not only do they have some great resources on art and design but also one of the best views of the Boston Skyline. Definitely worth checking it out if not for the books but for the view. Oh and they also have some really funky chairs with built in tables and plugs that make studying for hours a little more bearable.