America's Test Kitchen Library Site Visit
Posted October 30th, 2018 by Katie Carlson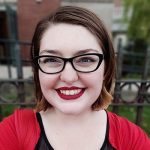 Araceli Hintermeister '16MA/MS was gracious enough to give us a tour of the America's Test Kitchen facilities. We were able to follow her through the pantry, onto the various sets, and of course, into the America's Test Kitchen library.
I made sure to fangirl over the beautiful and sleek set kitchens, but was equally as drawn to the photography studio. Araceli shared that the studio puts out thousands of photos a day. They have a plate and bowl collection that I am still having dreams about. 
Once in the library, the books were predominantly cookbooks, with a few reference texts thrown in here or there. In a move I've never seen before, but greatly enjoyed, the books were organized by cuisine origin, with each area of the world being assigned a color combination, as indicated by tape placed on the book's spine.
Araceli then brought in fellow information professionals who work at ATK, and we were able to grill them about their intersecting food and information interests.
After our tour had concluded, a tall woman ran in and announced that she needed testers for vanilla pudding. Free food AND helping out ATK?  As lowly grad students, we were all clamouring for the opportunity.
We were led into a room we had previously toured. It was filled with square silver tables and lined with stools — some of which were already occupied by other testers. As testers, we were given instructions to describe the texture, taste, consistency, and overall enjoyability of the product. We were tasked with trying three little cups of pudding, eating saltine crackers and drinking water in between to cleanse our palettes. It all felt so professional!
My friend Shawna and I took this very seriously, and were among the last testers sitting at the table. By the time we had described the three puddings in a sufficient and novelesque matter, most of our classmates had dispersed, and were on to their next adventure.
On our way out, ATK confirmed its status as "coolest place to be ever," by even having kitchen themed elevators. I'm so ecstatic to have had the opportunity to tour these amazing libraries with the help of Simmons alums and the Special Libraries Association! My field trips in undergrad were rarely this cool and so enmeshed in my niche interests!