Final Thoughts on LIS 453 (Collections Development and Management)
Posted August 11th, 2017 by Megan Ondricek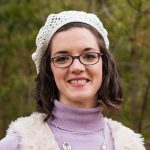 I know it's been a little while since I last posted and I'm so grateful the Simmons folks have been patient with my erratic summer blogging. Our final class for LIS 453, collection development, was on Saturday and I've been gathering all my thoughts about the class, the format, and the things I've learned.
First of all, I'm really glad I took a summer class and I'm glad I only took one, as opposed to two like I originally planned. This summer has been so enjoyable, with just the perfect balance of relaxation and work, traveling and sitting at home, homework and pleasure reading. I almost wish it could last forever, but fall is just around the corner and with it, a busy new semester at SLIS West!
This class was the first time I had ever taken something with an online component, and I thought the blended format worked really well, especially for summer. To me it seems like the "happy medium" between in-person and online classes. It gave me flexibility to vacation with my family and spend some weekends at home while turning in assignments remotely. The online class sessions, to be completed on your own time and at your own discretion, presented the opportunity for learning on my own terms. I was not well prepared for this, as it was much too easy to breeze through the videos and skim the readings and be done. In hindsight I wish I'd been a bit more disciplined and gone over the material more thoroughly and explored more of the additional and recommended resources. Let this be a lesson for the online class I have coming up in the fall!
In terms of the content of the course, well, it probably all would have been worth it just to meet and talk with the instructor, Michael Leach. He was very knowledgeable, very experienced, and he made the material fun and interesting by illustrating all his points with real life examples. I appreciate all the practical knowledge we gained, along with the theory. Here are the most important things I learned from the class, in no particular order:
How to write professionally: most of our assignments involved writing policy and other professional communication for our libraries, with emphasis on following the "language rules" our instructor had outlined. Each assignment had specific length restrictions, forcing you to really think about how to cover all the important information clearly and concisely. It was great real-world practice.
How to tweet and be a library advocate on social media: I'd been wanting to get involved on Twitter ever since I started library school, but I was hesitant and a little nervous, to be honest. Turns out the best way to get started is to just start tweeting! Our social media assignment was just the push I needed. It all clicked for me the week I spent taking my kids around to all the local libraries, tweeting about our adventures. The libraries tagged in my posts invariably retweeted them or even thanked me for my shout-out! Promoting libraries, one tweet at a time.  
How (and why) to follow book news, publisher news, reviews, awards, etc.: this is something I'd never even thought about before, but it makes perfect sense that as librarians, we know what's going on in the book world. There are so many genres out there with which I have little experience, and learning more about them has given me an even greater appreciation for books and reading. So many books, so little time….
How to use data and statistics to evaluate and demonstrate library performance: this was probably my favorite topic in the course. I have worked with library statistics before, but I had never understood the theory and concepts behind the process. Doing assignments with library data and usage reports reminded me how much I love it, and how much more I want to learn.
So there you have it. I suspect I'll be back blogging again in the fall, but until then I'll be enjoying what's left of this mild and beautiful New England summer on the shore of the Long Island Sound, reading lots of books. (Or at least, that's what I like to think I'll be doing…)