Less is more: Small scale librarianship
Posted March 30th, 2017 by Megan Ondricek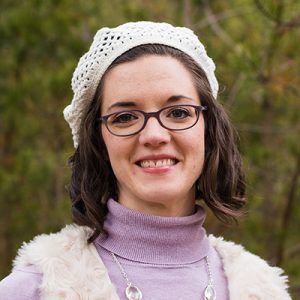 One of the great things that I love about attending SLIS West is the lunchtime events. Many of my blog posts will probably contain thoughts and reflections from the latest SLIS West speaker or presentation, especially since I plan to attend ALL OF THEM. Part of my motivation for this is the free lunch provided. Listen: I think I've had to bring my own lunch only twice this entire semester. This is a great, great thing. The food that they get for these events is excellent. Also, I am like an eager little sponge that just wants to soak up all the library stuff, and this is an easy and convenient way to do it!
So, last Saturday we heard from Andrea Bernard, Library Director at the Tyler Memorial Library in Charlemont, MA and one of 10 I Love My Librarian Award winners in 2016. I just have to quote this section from the story about Andrea's award:
"Andrea Bernard will go out of her way to serve her library patrons. Just ask Stephen Ferguson, her nominator for a 2016 I Love My Librarian Award. Ferguson said he lives alone on a dirt road in the Berkshire Hills of western Massachusetts. After undergoing major spinal surgery, he was housebound for four months. "Throughout the winter, in all kinds of weather, my librarian, Andrea Bernard, brought me an endless supply of books, driving her personal vehicle after library hours. Because Andrea takes a personal interest in all of her patrons, she knew just what books to bring me."
Ferguson also said Bernard "has renewed his love of libraries."
http://www.ilovelibraries.org/article/i-love-my-librarian-winner-andrea-bernard-going-extra-mile
Not only is Bernard the director of this tiny little rural library, she is the only employee. So actually, Andrea Bernard IS the library. This talk really resonated with me because I have lived in small rural towns my entire life (but not quite as small as Charlemont). I grew up using these small, underfunded public libraries and then worked in the small academic library of the small, private university where I did my undergrad. And here's the thing about working in small towns and small institutions: you wear a lot of hats. You learn to do things for yourself, because you can't pay someone else to do it. You may have to learn about the laws governing the replacement of certain kinds of lightbulbs, and change them yourself. You may have to find creative solutions to problems using the resources you already have. You find yourself doing things you never thought would fall under your job description. But all of this means that you truly have the opportunity to make the job your own. And the other thing about working in a small town: you will get to know everybody. You find yourself catering more to individuals than to the aggregate. And you will quickly see your work making a difference in the lives of the people that you come to love as you serve them. And this is what librarianship is all about, right? Making connections with people and building communities?
I was so inspired by Andrea's talk, and I wanted to write about it because I feel like small institutions have to work so much harder to justify their existence and their validity. Places with the numbers, and the funding, and the name recognition command respect and prestige, but that doesn't make their work any more important than that which goes on in the out-of-the-way corners of the world. So I guess what I want to say is: don't write off an opportunity just because it comes from a tiny place you've never heard of. And listen to what these small-town folks have to say! They are the true diamonds in the rough.