"SLIS Wester"
Posted January 17th, 2017 by Amanda Pizzollo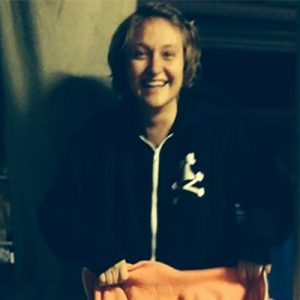 PS (presript in this case rather than post): I like the term SLIS Wester. SLIS Westerner would of course be more technically appropriate if you're uptight about prescriptive language. I'm not sure if anyone else uses either of these terms- so if you decide to start going around being like "hey, SLIS Westers, let's go party!" and get only blank stares, don't say I didn't warn you.
Welp, the winter break is coming to a close. I've started my pre-class reading for the course that required it, but mostly this weekend has been about lounging around and working on fun little projects- taking advantage of my last weekend without class or homework for a while. Recently, I had someone ask me about being a SLIS West student compared to being a Simmons Boston student, and I figured- hey! why not make this explanation a blog post too. Now, of course the problem with trying to answer "what is it like to be a SLIS West student?" is that it's like asking someone "what's is it like to be a student?" or to get real broad on ya, "what is it like to be a human?" My perspective and experience is not going to be an accurate representation of all SLIS Westers, cause I'm just me. Nevertheless, I'll speak about what it's like for me.
SLIS West has been a great choice for LIS school for me. I'm in this area with my hubby while he gets his doctorate. We moved around the country for a while based on life goals for each one of us- and coming here and staying here for the time it takes for him to finish school was a joint decision. We'll be in this area (Western Mass) for about 6 years or so most likely- and we bought a house last year. So, up and moving to Boston wasn't really an option. I know a lot of SLIS Westers have careers and children and partners and equally can't really move to Boston for school. Plus, tbh, I've lived in Boston often the last 10 years or so and it's not really my fave place to live. If we were just moving somewhere for my school and SLIS West didn't exist- I probably would have ended up at a different school. I could commute to Boston and be a Simmons Boston student- and indeed I'm taking one in Boston this semester, but having SLIS West as a campus is nice for more than just avoiding that commute and the crazy price of parking in beantown.
There's a nice sense of the SLIS West community out here because there's only 70 or so of us compared to, I don't know, thousands of SLIS students at Simmons Boston. Folks do drive from all over, so it's not always easy to coordinate hang outs- but if I wanted the live-near-campus-and-have-most-my-other-students-near-me feel I wouldn't have picked SLIS West. It is nice, though, that I feel like I know a lot of my fellow students and LIS students are generally pretty swell peeps. We have pretty small class sizes and really get that whole shared & participatory learning experience that I dig. Our professors are mostly adjuncts with full time librarian or archivist jobs at nearby institutions- so they have lots of practical experience and can help you network in the area. We have classes on Mount Holyoke's campus, which is gorgeous. It's kind of an interesting feeling- I mean it's not really our campus, but it also is. I take advantage of this and use their library, campus center, and chapel often (it's great for meditating). We do have borrowing privileges through their library (not for eresources, though) and through Simmons (like all Simmons students). You can't really sign up for MHC library classes and workshops like you could if you were a Boston student with Beatley, but being able to use that library is super nice, and the staff is helpful and friendly. We do have some workshops here hosted by the office or LISSA West too- mostly speakers working in the surrounding area telling us about a typical work week for them. Also, of course we can access all the tutorials and what not online and contact our Simmons librarian via email. We've got a SLIS West office with computers, printers, scanners, and the like. That's where I do a lot of my homework since the course reserves are there. Plus- I'm the office assistant and that's where I do my work work for SLIS West. Of course, I'm a LIS student- so I also study at my public library and other college libraries in the area bc I love libraries.
Overall, the best things for me about SLIS West have been:
1. It's a part time program- so I can have all the internships and jobs I've had and still be able to attend school since classes are primarily on Saturdays and Thursday nights.
2. I can get face-to-face classes without always having to drive to Boston. South Hadley (where classes are) is only 40 mins away from me- and the parking is free. I'm not a big online class person, though I have taken some online courses in this program. Getting to have face to face as an option that's not to far away is pretty splendid.
3. I really like the community- my co-students, SLIS West admin, the faculty coming out to teach us from Boston, and all our awesome SLIS West adjuncts. I also really like the non specifically SLIS West community/area- the surrounding public library network, the 5 colleges, the pretty woods, and the people.
If you're looking for a similar experience to what you may have had in undergrad if you went to a 4 year school and lived on campus- SLIS West probably isn't for you. Everyone commutes. Most folks have work and families. Many students are career changers. You have lots of resources- but it's not exactly the same as living in Boston and being right near the main Simmons campus. It's been wonderful for me and for my current situation in life, though. If you're struggling to decide between Simmons online, Simmons Boston, or Simmons LIS West- feel free to reach out to me and I can surely talk your ear off some more. There's information sessions for all options too, I think- definitely at least for Boston and West. And whatever you end up deciding, you're allowed to change your mind and you can take any Simmons course as a Simmons student (so for instance I'm SLIS West but I'm taking a Boston course and I've taken online in the past too).
Alright, let's get this (final) semester started. Hasta pronto, friends.