SLIS Reflections
Posted August 8th, 2016 by Jill Silverberg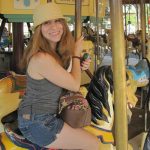 It's been a little more than two months since I walked across the stage at the Blue Hills Pavilion to accept my Masters degree in Library and Information Science. The fact that I won't be starting classes this September still hasn't totally sunken in. This has never happened to me before; I have held the identity of "Student" since I started kindergarten. While I am thrilled to be starting the next chapter of my life, the part where I finally get to find out what grown-ups do during the work week, I will miss the familiarity and comfort of the classroom.  
I will also miss the familiarity and comfort of SLIS. For the last three years, I have been a part of a community of like-minded individuals. Like me, the many members of my cohort have aspirations of becoming LIS professionals while also juggling the struggles of being a twenty-something living in the city of Boston or Cambridge. Yet whenever the uncertainty of the unknown would begin to become overwhelming, one of the program's many mature students would offer either some life or career advice, proving the merits of SLIS's broad and diverse community. 
A while back, I was encouraged to write a blog post that highlighted my time at SLIS. Although I will continue on as a member of SLIS's alumni community, by the end of this summer, I will have to accept that my time as an active member of SLIS's current student community is over. And I don't want to waste a single moment of that time. Although I could write a list an extensive list that recounts just a smattering of my SLIS experiences, I'd rather use what is left of my time to emphasize this: if you are interested in pursuing a degree in Library and Information Science and want to be surrounded by peers and faculty who are just as passionate as you are about this profession, then I cannot stress enough for you to consider the School of Library and Information at Simmons College. You won't be disappointed by the opportunities that will come your way, the varied coursework and specialization options, and above all, the people that you will meet.
Graduate school can be a scary place, but it is the people that we meet along the way to that moment when you receive your Master's diploma that will make it all worth the stress, sweat, and tears. Although the future is scary, I know that SLIS has prepared me for whatever is going to come my way. I also know that I have many friends and former professors to reach out to for advice whenever that time arises.