Farmer's Markets of Summer in Boston
Posted June 10th, 2016 by Jill Silverberg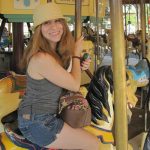 June is one of my favorite months of the year. In the past, it used to signify the official end of the academic year. Since moving to Boston, June has come to mark the beginning of farmer's market season! 
As a lover of all things related to food, farmer's markets are like catnip to me. I absolutely love wandering through markets like SoWa, the Boston Copley Farmers Market, and the Haymarket Square Farmer's Market and talking with the vendors about their produce. The fact that you can buy an amazing amount of fruits and vegetables for just $10 doesn't hurt either. Whether it is your first spring in Boston or not, you definitely should check out a few of these farmers markets while you can. 
This past week I've been nose deep in books that discuss the history of New England cuisine. At the same time, I've been spending my Tuesdays and Wednesdays at the Schlesinger Library reading through the letters of Arthur Nichols, as a means of learning about the late nineteenth and early twentieth century foodways of a Beacon Hill family. While I've learned a great so far, I'll admit that most of the foodstuffs and recipes that I've come across are for fare best enjoyed during the fall and winter. Since it is JUNE, reading about pumpkin pie isn't really making stomach grumble like it would if it were October or November. I will definitely try my hand at replicating some late nineteenth and early twentieth century fall recipes at some other point this summer, right now, I want to take advantage of the seasonal produce like currants and rhubarb, foodstuffs that I can only enjoy in May and June.
And speaking of rhubarb, I think I found the perfect recipe for those who want to try their hand at something other than a strawberry rhubarb pie.
These rhubarb bars are very similar to lemon bars which was why I jumped at the opportunity to try baking these. A cream cheese shortbread and topped with a rhubarb curd sounds like the most amazing thing to enjoy on a hot spring day. If this recipe seems like it would be right up your alley, I'd say go for it. The recipe is pretty straight forward and the results are 100% worth it! 
Rhubarb can still be found in a few supermarkets but your safest bet would be finding it at one of the three farmers markets I mentioned above. I went to the Copley farmers market 
on Tuesday
 and only paid $4 for a pound and a half of those delicious stalks.
For those interested in checking out the three markets I mentioned above, check out their websites to learn more!