Ode to Brunch
Posted April 15th, 2016 by Katie Caskey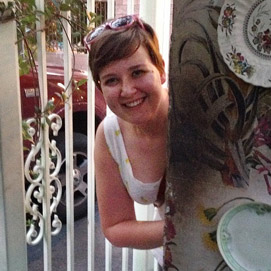 I have just recently become a regular bruncher (forgive the pretentiousness, but I don't know what else to call it). Breakfast has always been my favorite meal of the day, but the whole concept of meeting your pals on a weekend for some hearty breakfast food and acceptable morning alcohol (ie mimosas) isn't something I encountered much in the Midwest. But since coming to Boston, my eyes have been opened to the great variety of possibilities that this mid-morning timeslot can hold.
"What's so great about brunch?"
The food!!! Pancakes, eggs, hash, bagels, burritos, fruit…and the list goes on. And since you are technically combining two meals into one sitting, feel free to go wild with your ordering. Chocolate milk and coffee? French toast and bacon? SURE!
The time slot. I consider myself a morning person, but even I can appreciate the gloriousness that is sleeping in past 8:00am. Brunch is the perfect excuse to sleep in and still feel like you've accomplished something with your day. The breakfast-y food tricks your brain into thinking it's earlier than it is, so you feel like you have more hours in your day!
The chatting. I love my friends I've made at Simmons these last two years, but we don't get to see nearly enough of each other, what with our busy work and family lives. So when we all have a free weekend it's so good to catch up over some warm food. My roommates and I have also started a weekend brunch tradition. Our schedules are so varied that it is lovely to have found a time to all sit down together and really hash out what's been going on in each other's' lives.
 "OK, you've convinced me. But where should I go to eat?"
Here are my top three suggestions for affordable and delicious brunch for the student on a budget.
I believe I've sung this restaurant's praises in a blog post or two already, but it's so good I'm going to do it again! Voted one of the nation's 10 best diners by National Geographic, Zaftigs is probably the best brunch place in Boston. Their sweet breakfasts are particularly spectacular (my favorites are the banana walnut pancakes with date butter or the chocolate French toast with raspberry puree). I also love their eclectic collection of artwork, all featuring their iconic lady in a red dress that adorns their menus. If you go, check out the piece in the women's bathroom…it's hilarious and adorable!  
This place has been a recent favorite of my roommates and I, partially because it's quite close to our apartment, but mostly because it has great food at AMAZING prices! The pancakes may be the silkiest things I've ever eaten (there's really no other way to describe them), and their mimosas are quite good (according to my roommates who have sampled all three flavors – blueberry, grapefruit, and the classic orange). But the coolest part of this diner has to be its location and décor. Set up in an old train station, the diner still features a working sign that lights up alerting patrons to approaching trains. And the rest of the place is decked out in full steam-punk style, with lots of interesting machines, gears, and sculptures scattered throughout. If you are a fan of the musical Wicked, you will feel like you're in the set, as it's very similar in both style and color scheme. 
Ok, full disclosure time…I've never actually eaten at this place, yet! However, from what I've read online and heard, it is a spectacular hidden gem. The best time to go would be on Saturday or Sunday, when they offer their two course $10 brunch special!!! That's right, for just a Hamilton you can pick a pre-meal "appetizer" (things like fruit, yogurt, granola, etc) and a full meal (lots of Mexican fare, but also offering pancakes for those with a morning sweet tooth), PLUS unlimited coffee and complimentary corn bread! Nuf said.
Now, armed with convincing pro-brunch arguments and a high-quality selection of locations, you have no excuse not to jump on this bandwagon and become a frequent bruncher yourselves! Happy eating! J