Interning at Johnson and Wale's Culinary Arts Museum
Posted February 2nd, 2016 by Jill Silverberg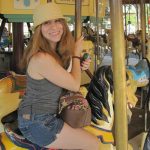 Like many students who entered SLIS in the fall of 2013, this semester I will be completing my final LIS course. While each program within SLIS is structured differently, all feature a Capstone course that usually includes an internship requirement. For this internship, students can either wait to choose a location from a database of options (similar system to what is used in LIS 438, the introductory course for those on the Archives track) or they can work alongside the Capstone Coordinator, Kendra Giannini, and set up an internship at a location of their own choosing. Since my first semester as an Archives-History dual degree student, I have known that my dream job would be to work within a museum or special library that features a large collection of cookbooks and other texts and items associated with food culture. When I met with Kendra, we talked about my interest in Food Studies and she suggested that I consider trying to satisfy my Capstone requirement by interning at the Johnson and Wales Culinary Arts Museum. With her help, I decided to do just that.
Last Tuesday, I officially stated interning at what I can only describe as my personal Heaven. Located in Providence, RI, the Culinary Arts Museum is a sprawling institution that works closely with Johnson and Wales University's School of Hospitality and College of Culinary Arts. Featuring a massive collection of food related papers and items, the museum is a visual testament to impressive history of foodways and food culture in America. As I already mentioned, this is basically my version of Utopia. Although the commute is something to be desired -the commuter rail isn't always on time- I really don't care. At the Culinary Arts Museum, I witness a daily synthesis of Library Science, History, and Food Studies. Additionally, I get to work alongside others who share my passion and obsession with all things related to food. 
My project for the semester revolves around a collection of food-related documents that were part of a much larger collection of materials that were donated to the museum in the 1980s. These documents include menus, letters, invoices, and receipts. Although these materials have already been inventoried and cataloged, it would be incorrect to say that the collection has been fully processed. On Wednesday I was going through a box and discovered that it contained an entirely different portion of the collection; there were still papers missing. At the same time, there were papers in the box that weren't listed on any of the itemized lists that I had received! Just where exactly did the menu containing doodles and notes from Mark Twain come from? And what about the note from Tesla? While I was originally going to confirm and reorganize the collection, I'm now in the middle of a scavenger hunt to find the missing documents. Talk about exciting! 
Although I have a lot on my plate this semester what with my thesis and all, I am still over-the-moon happy about have the opportunity to work in an institution like the Culinary Arts Museum. This is the very sort of institution that I would like to work in professionally one day. I am looking forward to seeing what is in store for me this semester while I complete this internship. Hopefully I'll have some fun stories to share here on the SLIS blog.