It Begins!: My Final Semester
Posted January 24th, 2016 by Jill Silverberg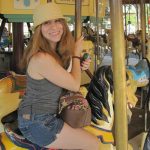 All throughout the Fall semester, I've been mentally preparing myself for this moment. However, now that the time has come, now that my final semester is about to begin, I've come to the realization that nothing truly could prepare me for this. That's the funny thing about reaching the last stretch of a race or the final level of a video game; you've known all along that this would happen and yet you still can't believe that you've finally made it. The finish line is in sight, the final boss is right behind that door. In other words, stuff is about to get very real! 
Last semester, I wrote a blog post about my semi-frustration with people asking me about my future. What were my post-grad school plans? Was I going to stay in Boston or contemplate moving away? Was there a PhD program waiting for me just past the horizon? Essentially, this was my life all throughout my Thanksgiving break:
Ironically this scene also happens to occur during a Thanksgiving meal
I didn't know the answer then and I still don't totally know it now. However, I do acknowledge that these are good questions to be asking someone on the cusp of finally entering the world of full-time working professionals. Although I haven't figured everything just yet, I have recently reached a few conclusions.
1. I want to remain in Boston (at least for another year), but I will apply for jobs outside the city and state
2. A full-time job would be fantastic (but I'd be content working two part-time jobs)
3. I want to work within a special library environment 
4. I enjoy working as a reference librarian
5. My 'dream job' would be one that would allow me to combine my experiences as a references librarian with my archives training
6. Working for a library or museum that specializes in food history would be amazing! 
7. A PhD might be in my future but not right away
So yeah, that's what I've got so far. The above doesn't satisfy every question that I've been asked, but I think it is a good place to start. After all, right now my attention needs to be focused on completing my thesis and my capstone project. However, as the end gets closer and closer, I am certain that I will write a blog post or two that reflect my thoughts on the future. 
I'm gonna close this blog post by wishing everybody a good semester. Let's all cross our fingers and toes and pray that we don't have another snowocalypse like last year!
Good luck everyone!