Attending ALA
Posted January 13th, 2016 by Jill Silverberg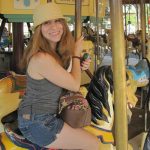 This past Friday I attended the American Library Association's mid-winter conference which was held at the Boston Convention Center. Not only was this my first time attending an ALA conference, this was actually my very first library conference in general! Talk about exciting. While I had known that the ALA mid-winter conference was going to be held in Boston for quite some time, at first, I wasn't certain if I should go. Since my focus within the field of library science is archives and cultural heritage, I was slightly concerned that, despite being a wonderful opportunity, I wouldn't have too much to do beyond wandering around the exhibit hall. However, after speaking with a cousin who is a librarian in the Queens, NY area, I reconsidered a few things. 
To begin with, the conference was being held in a city that I was currently living in. One of the primary reasons I had opted out of attending the Summer ALA conference (previously held in San Fransisco) was the cost of finding a place to stay for the length of the conference. Even though I could have used AirBnB, I sadly could not afford to go. This time around, I didn't have to worry about such matters. All I needed to get to the conference would be a T pass and a good sense of direction. The next thing that really changed my mind was hearing my cousin talk about the varied experiences that she had gotten out of attending conferences like ALA. She had met fantastic people, networked with a variety of different professional organizations, and had made close friends with other participants during individual sessions. Hearing her recount these things really sealed the deal for me. I signed up for ALA just in time to still qualify for the early-bird deal*.
To prepare for the conference, I dedicated a bit of time to looking over the mid-winter conference's website, which was filled with information for first-timers like myself. I found suggestions for what to wear, what to bring, how to organize my time, and other useful tips. What was really great was that ALA had set up an app that allowed me to view and change a schedule that I had personally designed. This really helped me stay on track of sessions that I really wanted to attend. 
On Friday I attended an authors forum with Ken Burns, Mark Kurlansky, and Terry Tempest Williams. The three authors talked about writing, the importance of memory, and other things. As a big Ken Burns fan, this was truly a wonderful experience though both Kurlansky and Williams also had amazing stories to tell. Following the forum, the exhibition hall was officially opened and the true madness began!
Saturday started off with a walk around the exhibition hall. Since I had to leave early on Friday, I hadn't had much of a chance to really explore the exhibition hall. Upon reflection, I think that this was probably for the best. Between 12:30pm and 5:00pm, I accumulated two tote bags that filed to the point of bursting with books! Everywhere I went, there were advance copies of books being handed out like Halloween candy. Each time I promised myself that I wouldn't grab another, that my arms were already going to fall off. But then I'd see another table and that promise would promptly go out the window. Throughout the day, I ran into my fellow SLIS classmates; all of us were dragging bags upon bags of books around with us. Thankfully, there were a bunch of sessions held at the cooking stage that offered me a chance to sit down and relax. The first cooking session was a Q&A with two bakers from Prohibition Bakery. They were promoting their new bake-cook which features page after page of alcoholic cupcake recipes, a few of which I have since marked to try sometime down the road. The next session was a cooking demo with author, Beatrice Peltre, who was also promoting her new cookbook, My French Family Table. She made the most amazing parsnip, potato, and pear soup that I am still dreaming about. It was hearty, creamy, and just simply delicious. I made certain to be in line to pick up a free copy of her cookbook! After the cooking sessions ended, I wandered around the hall again, trying hard to resist the urge to grab more books. Thankfully I had made dinner plans with my cousin (the librarian from earlier) and had an excuse to leave before I could load up on anymore books.
Due to rain, I ended up staying home on Sunday. However, when I returned Monday, I had come prepared. Armed with an empty tote bag, I joined the remaining conference attendees in gathering the last of the free books. However, there was one book in particular that I had set my sights on. It was a cookbook -no shocker there- and it also just so happened to be the one thing that my mom asked me to buy for her at the conference. This book itself had been published earlier this past fall, and my mom had added her name to a list of patrons at her library to read it. She finally got it while I was home during Christmas break and deeply enjoyed reading through it and copying down recipes that appealed to her. When I saw the book on a publishing house's display shelf Friday evening, I knew that I had to get it for her. The bad news was that the publishing house wasn't planning on giving it away, it was just for display. Undeterred, I kept asking about the cookbook, hoping that maybe they would change their minds. No dice. Finally on Monday, in the last hour before they packed their display copies up, I went back one final time. I explained it was for my mother, a huge fan of the author, and that I would pay full price for the book. Prepared to be rejected again, I was gobsmacked when they handed the book to me and said I could have it for free! I couldn't believe it! I thanked them more times than I could count and then left the hall to call my mom.
In the end, I'm happy I attended ALA. While I sadly didn't get to attend any professional development sessions, I enjoyed listening to authors talk about their books, conversing with vendors like ARTStor, ProQuest, etc., and hanging out with my friends from SLIS. As for the books that I acquired, I left ALA with twenty-five new books, five of which are cookbooks. Not too shabby for a first-timer…
*While I know that footnotes are somewhat unorthodox to appear in blog posts like these, I just want to assert the sheer wonderfulness of the early-bird deal! If you sign up for any conference before this window closes, you are going to save SO MUCH MONEY!