Happy Halloween!
Posted October 28th, 2015 by Jill Silverberg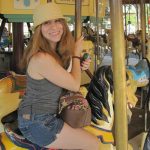 Grab your pumpkins and copious bags of candy 'cause Halloween is right around the corner!
This year the holiday fortunately falls on a weekend which means that us students do not have to deal with the epic struggle of deciding whether or not to attend class dressed in full costume. While I will certainly support anyone who has/would do it, I sadly have never really had the opportunity to do so. Life just has a way of messing with my plans. Oh well.
In preparation of All Hallows Eve I've been binge watching and reading anything and everything that reminds me of my favorite autumn holiday. From watching Let's Plays of survival horror video games to reading a horror novel set within a store reminiscent of IKEA, I know that come 
November 1st
, I am definitely going to need a year to recover from my apparent Halloween overdose. But until then, the parade of all things spooky, creepy, and nightmare-tastic will keep marching on. While I sadly could not make a visit to Salem, MA this year, I did get to journey into a massive haunted corn maze last weekend along with my sister and some friends. Although I have taken on the challenge that is the Davis Mega Maze before, this was the first time my sister and I had ever teamed up together to do so. During the first three weeks of October the creators of the Davis Mega Maze offer a 'Fright Night' series wherein the maze is open late and participants are left to wander a monster infested maze. If you love mazes, thrills and chills, and of course, jump scares, this is definitely an activity you want to add to your roster for next year. You can learn more about the Mega Maze here: 
https://www.davisfarmland.com/megamaze_wp/
. 
While I wish the spooky fun of Halloween could stick around a bit longer, as the saying goes all good things must come to an end eventually. When the clock strikes twelve 
on Saturday
 night it will be good bye October, hello November. And with November comes a whole new slew of things to celebrate. After all, the greatest, gastronomic holiday of the year occurs in November. But I'm getting ahead of myself. For now, lets enjoy what's left of October and all the fun the month has brought us.