Exploring Fantasy Worlds in Your Own Backyard!
Posted October 2nd, 2015 by Katie Caskey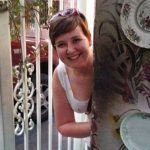 I have to give a shout-out to my Science Fiction and Fantasy professor for introducing me to this week's blog topic! Last week our class was given the assignment to go and experience the map exhibition currently on display at the Boston Public Library. If you're like me, you may be skeptical of this venture, wondering just how interesting could it be to go look at a bunch of maps in a quiet room somewhere in the depths of the library. Wait, hang with me, because I haven't told you the best part yet…the maps are all from fictional lands of children's literature!!! 
Running now through October 25, the "Literary Landscapes" collection is on display in the Norman B. Leventhal Map Center at the main branch of the BPL (the one in Copley Square). Featuring both 2D and 3D maps (take that in…3D MAPS!), the exhibit introduces visitors to the extensive and detailed imaginary worlds created by some of our favorite authors.
When you first step into the map room, you are greeted with a beautiful pair of pop-up book maps depicting the tornado of Oz and the rabbit hole from Alice in Wonderland. From there, you can wander the displays, all awash with color and whimsy. If you have a bit of extra time, take a moment to read some of the more detailed maps, root out the hidden gems put in by the maps' creators for the true fans to find, and appreciate the vast amount of work that must have gone into building these iconic worlds from the ground up. 
As I've been writing this post, I've been trying pick a favorite piece from the exhibit, but it's so hard to do! Every time I think I've chosen one, some little voice in my head pops up with another equally wonderful option. If I was forced to pick, though, the maps of Narnia and the Hundred Acre Wood have to be tied for the top spot. They are very different stylistically, with the Narnia map evoking a much more ancient and reverent tone while the map of the Hundred Acre Wood harkens back to early childhood, even including the epigraph "Drawn by me and Mr Shepard Helpd"…how sweet!
It was so much fun to take a few peaceful moments in the heart of the library and admire all the art and detail that went into creating these magical worlds of our childhood. And the best part is…it's FREE! I'd very much encourage you all to go exploring!
***All images are from http://www.bpl.org/exhibitions/current-exhibitions/literary-landscapes/ ***