Banned Books Week
Posted September 30th, 2015 by Jill Silverberg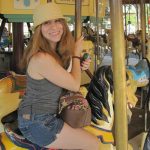 After recently looking over ALA's 'Top 100 Banned/Challenged Books' from the past two decades (1990-1999 & 2000-2009), I realized that I have read quite a few so-called banned/challenged books in rather short lifetime. Some of the books on these two lists were notable for due to their reputations as being banned or challenged: Are You There, God? It's Me, Margaret by Judy Blume; Blackboy by Richard Wright; American Psycho by Bret Easton Ellis; Brave New World by Aldous Huxley; and To Kill a Mockingbird by Harper Lee. Others came off as bit of a shock: In the Night Kitchen by Maurice Sendak; Harry Potter (series) by J.K. Rowling; and Captain Underpants by Dav Pilkey. Yes, even Captain Underpants has been challenged for its content.
While it is certainly true that there is a stark difference between a book being 'challenged' [an attempt to remove or restrict materials] and 'banned' [to completely remove materials], either act is a case of enforced censorship. Although ALA acknowledges that books that are challenged are usually done so with best intentions in mind, whenever I hear about a book that has been challenged -often within the context of a school- I always feel a bit sad. I personally believe that all people should have the power to choose the books that they want to read. Reading opens up whole new worlds to people; it introduces new characters and adventures. Telling someone what he or she can and cannot read is a disservice to another person; he or she is being denied an opportunity to experience the options and ideas of the work's author(s). 
This week, SLIS's very own Library and Information Science Student Association (LISSA) will be celebrating ALA's Banned Books Week by hosting a party to celebrate our open rebellion against the concept of banning/challenging books.This celebration will happen Friday, October 2nd from 6:00pm to 9:00pm in the Staff/Faculty Dining Room, Main College Building. 
If you happen by the Student Lounge on the Second floor of the Palace Road Building, you will see posters designed by members of LISSA that feature the covers of books and little blurbs stating why these books have been banned/challenged. I highly suggest you stop by and take a look. There might be a book there that you've read and might not have known its banned/challenged status.
For more information on ALA's Banned Book week, check out their website: http://www.ala.org/bbooks/banned