Trivia Night at Thornton's
Posted September 16th, 2015 by Jill Silverberg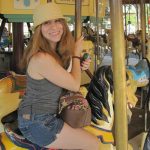 Last Friday night I attended the trivia event that was hosted by ASIS&T, ALA, LISSA, Panopticon, PLG, SCoSAA, SCIRRT, SLA, and Spectra. Considering the number of student organizations that were involved with making trivia night possible, I think we should really be calling it a super event. I'm not certain how often the SLIS student organizations come together to collaborate on putting together big events like this but I hope that they do more of them in the near future.
For those who have never been, Thornton's Fenway Grill is located on the opposite side of the Emerald Necklace from Simmons, on Peterborough Street. It is conveniently located on a strip of businesses that almost all specialize in food. By the time a friend and I arrived at Thornton's for trivia, the place was already jammed packed with students. Fortunately, I was able to snag one of the few remaining seats at a table of friends. After ordering a round of drinks (the place was featuring a $5 Blue Shark drink that we all couldn't ignore), we prepared for the trivia battle! Dubbing ourselves the Hot Totties, we waited eagerly for the trivia begin. While it was a bit hard to hear the trivia MC, a representative from ASIS&T was going around passing out strips of paper with the questions. While the overall event was a lot of fun, the place itself was a bit too small to accommodate such a large turnout nor did it make it easy for teams sitting on the far side of the room to hear the questions. Even so, we didn't let these matters dampen our spirits!
In the end, my team of the Hot Totties ended up winning trivia night, walking out of Thornton's with our prizes and Octoberfest hats (ASIS&T ran out of the T-shirts that they were handing out). Before leaving, the front of house manager mentioned that they were aiming on putting together a trivia event between Emmanuel and Simmons sometime this fall. I hope this happens since it would be a great way to bring our two colleges together.
If the SLIS student organizations wanted to start the year off on a high note, then I think that they definitely succeeded. This was a fantastic event for both new and returning students since it supplied everyone a chance to unwind after a week of classes with some fun. I can't wait to see what else our student organizations have in store for us this semester.