Summer Fun: Musical Mondays
Posted June 11th, 2015 by Jill Silverberg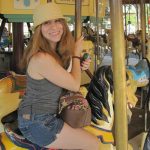 In recent years I have come to realize something about myself: I absolutely love traditions. Defined by Merriam-Webster as being a "a way of thinking, behaving, or doing something that has been used by the people in a particular group, family, society, etc., for a long time," traditions are something that anyone and everyone has. At the same time, traditions can be anything that one or many people want them to be.  
From family traditions such as always stopping at a specific spot on a road-trip to more sacred and religiously symbolic traditions such as attending Easter Mass, lighting the Sabbath candles, or by marking the end of Ramadan by celebrating Eid al-Fitr, traditions are practices that unite individuals together in unique and special ways.
 And then there are silly traditions; the kind that you have with your close friends, that ones that just sort of started out of nowhere but have since become something sort-of special. Within my apartment, we have a tradition. We call it Musical Mondays.
What started one 
Monday
 night a few weeks back with a collective urge to watch the musical 
Jesus Christ Superstar
 has since become a weekly gathering of the roommates where we celebrate the musical movie genre. Thus far we've watched 
Jesus Christ Superstar 
(a personal favorite), 
Joseph and the Technicolor Dream Coat
, 
The Lion King, Godspell, 
and as of 
this Monday
, 
Reefer Madness.
 Since all four of us have different tastes when it comes to musicals, my roommates and I have compiled quite a list. We've got modern musicals like 
Moulin Rouge 
and 
Rent
 and classical ones such as 
Hello Dolly 
and 
Fiddler on the Roof. 
As someone who used to be a self-described Broadway brat, Musical Mondays has been a blast, and not just for me. Together my roommates and I have become our own weird version of Mystery Science Theater 3000, questioning and commenting throughout the entire film. We're all fans of that sort of humor which always ensures that no movie we watch will be boring. Considering that, you can imagine how much fun -and confusion- we had while watching Godspell. Thank goodness one of my roommates paid attention while attending religious school and helped clear up some of the confusion, most of which came from my end of the couch. 
As far as traditions go, Musical Mondays has quickly become one of my favorites. We'll have to see what the fall semester will have in store but I think it would be awesome if we could carry this tradition past the summer. There are certainly enough films out there to keep the tradition going. I for one would love to put Footloose on our watch list. Now I know what you're thinking: "That's not a musical." Well, it did become one, and the amount of music and dancing should compensate for the lack of singing. And it has Kevin Bacon in it! That alone should be enough of a reason to watch it. Unfortunately, my roommates and I watched it together not too long ago so if we do watch it together, it probably won't be for awhile. Oh well, I guess I can wait 😛