Ready Set Rhubarb
Posted May 27th, 2015 by Jill Silverberg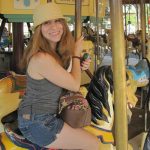 Well, it might have taken a bit longer than I would have liked but at long last the Boston Ice Age has ended and Spring has firmly declared its presence. For the last few weeks of April and even the first few weeks of May, I was seriously starting to get worried. After the winter we just went through, the last thing I needed were any more days below 55 degrees. However, judging from the explosion of flowers, leaves, and the sudden outbreak of open toed shoes, I think it is safe to say that those chilly days are behind us. Goodbye winter chill, hello spring/summer humidity! 
Wait….I hate humidity. NOOOOOOOOOOOOOO
Fortunately my apartment's ability to remain far cooler inside than it is out will mean far more pleasant days than my old place last year. While I will forever miss my very first apartment, the place's lack of windows made the unit a walk-in-oven. While this certainly encouraged my roommates and myself to get creative with ways to stay cool (three of them bought ACs, I relied on a tower fan) it also meant that any sort of activity that would have made the apartment any hotter was out. AKA any thing that required turning on the oven. Essentially, baking was outlawed! And since baking is perhaps one of my favorite activities ever, this was seriously not cool (pun not intended). 
Although Kevin Bacon won't be stopping by the apartment to celebrate my freedom to bake desserts with a catchy dance number, it does mean that I can take full advantage of Boston's multiple farmer's markets as a source for fresh fruits.  
While SoWa located in the South End is probably the most well known, there is also a farmer's market located in Copley on Tuesdays and Fridays. I actually went to the latter last Tuesday just to see what was available. While there wasn't too much yet – the winter somewhat delayed things – I did spot a vendor selling rhubarb for $3 a pound! And since rhubarb is one of those things I never knew I loved until recently, I bought two pounds of it. 
For those who have never tried it before, rhubarb is an excellent fruit to pair with berries like strawberries or blueberries because they have a slightly tart flavor that offsets the sweetness of the berries. While it does need to be cooked just a bit to soften it (uncooked rhubarb is on the tougher side), it is very easy to incorporate into any springtime dessert. For my rhubarb, I used the first pound to make a vanilla-rhubarb loaf cake. Simple but delicious, the recipe calls for sour cream which created a nice moist cake. The second pound will be used to make rhubarb and white chocolate blondies. I haven't made this dessert yet but cannot wait to do so. White chocolate is growing on me so I'm really excited to see how it pairs with the rhubarb.
If you have time this spring and summer, I highly suggest checking out the farmer's markets that I mentioned above. Its a fun thing to try if you have never been before. Oh, and if you visit SoWa, they have food trucks. 'Nuff said.