Innovation and Collaboration at Simmons's Graduate Alumnae/Professional Day
Posted March 30th, 2015 by Jill Silverberg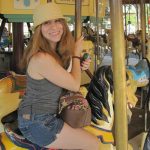 On Saturday, March 21st, I had the pleasure of attending this year's Graduate Alumnae/Professional Day. The event, a collaborative effort between Simmons School of Social Work, School of Management, and School of Library and Information Science, featured workshops and and award ceremonies hosted by each school's alumni association. Additionally, the event kicked off that morning with Bill Walczak, president of the Lewis Family Foundation and the Grad Circle Foundation, as the keynote speaker. Bill was one of a handful of founding members of an initiative that helped re-develop the Codman Square area of Boston beginning in the late 1970s. Through the efforts of Walczak and the other members of this initiative, they opened the Codman Square Health Center, a multi-service center which addressed health and other needs of the community. Since it has opened its doors, the health center has become a major factor in the regeneration of the community. 
During his speech, Walczak discussed the symptoms of poverty and how his work and the work of others since the 1970s have all been directed towards 'curing' these symptoms. Afterwards, Dean Eileen Abels' panel featuring representatives from all three graduate schools took the stage where they expanded on their thoughts related to Walczak's speech. For me, it was SLIS's very own Candy Schwartz who delivered a line that really resonated with me: "Libraries are both holders of content and helpers of content". Way back when I was applying for SLIS, then called the Graduate School of Library and Information Science (GSLIS), I was asked to write a paper that discussed a significant change that was occurring within the world of Library and Information Science. This is exactly what I wrote about.
Today, public libraries have very much become epicenters for many local communities in terms of providing various forms of programming to their communities. Similar to the Codman Center, which provides the community of Codman Square with a plethora of services, libraries today are no longer just a place where one can check out books. Like the title of this year's Graduate Alumnae/Professional Day, "Fostering Communities: Collaboration, Innovation, Connection, and Change", public libraries wear many hats. Besides being houses of knowledge, they are also central locations where patrons can take courses that range in topics from resume building and typing to yoga and cooking classes. It is these sorts of innovations that are not only keeping libraries relevant within a society where information is far more readily accessible than it has been in the past, they are also re-defining the sort of services and opportunities that libraries can offer their local communities. 
And that is just plain awesome!