Hanging out with the Future Authors of Tomorrow
Posted March 2nd, 2015 by Jill Silverberg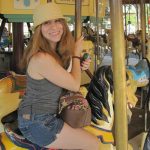 Yesterday afternoon, I had the pleasure to attend an event hosted by the Children's Literature Department over at the School of Management. Our neighbors up the stairs, my first interaction with the Children's Literature Department and Program occurred way back on September 1, 2014. That was the day that I formally moved into my new apartment with three other girls. Two of these young women were just beginning their second year in the Children's Literature Program. 
Since that time, I've learned a great deal about the Children's Literature Program, and all that is has to offer its students. Yesterday, I sat down and listened to various students from the program not only discuss their mentorship experience from the previous semester, but also hear excerpts from the novels that they are currently working on. Hearing the culmination of months, and in most cases, years of effort, was a wonderful experience. I could not only hear the passion that these talented writers had for their work, but also the excitement, pride, and love that they had for their stories and characters. While I certainly enjoyed being teased with excerpts from these stories, I found the most interesting part to be when these future authors discussed the writing process itself. All of them had different stories, some found inspiration while studying abroad in places like Northern Whales or Chile; others found inspiration in specific themes or genres. Of course, the writing process for many was not always a smooth ride. Many had hit a wall with their work at one point during their mentorship, some having to re-work plot points or remove characters. For one of my roommates, she struggled with trying to figure out who her target audience was. Although these struggles might not seem like much to some, for writers, they are expected aspects tied to the writing process.
As I sat there listening, I let myself get lost not only in these writer's novels, but their own personal stories. It dawned on me I was in the company of the next wave of young adult and children's lit authors. This is a notion that I have heard echoed before, usually during graduation ceremonies when either the commencement speaker or school president addresses the graduating class. While I don't doubt that I didn't graduate with the future's brightest minds, yesterday afternoon, I felt like I was in the company of literary greatness. 
To all of the students in the Children's Literature Program, I cannot wait to see what the future holds for you and your writing careers.