Looking to the Future
Posted November 6th, 2014 by Hayley Botnen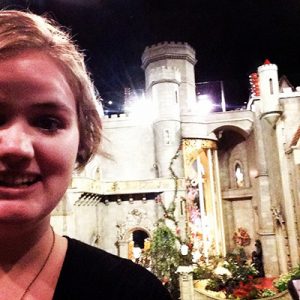 I'm going to be honest.
I have no idea what I want to do when I graduate. And around this time when we're registering for classes and everyone is talking about their future plans, I feel so scared.
I love YA books, and I love libraries. It seemed like a pretty obvious step to do the dual program. But when people try to ask me if I'm going to be a librarian or go into publishing–well, I have no idea. I think I would love to do either. Or both.
I feel like the older I get the more I should know what I want to do with my life. I should be settling down, finding a long-term job and a significant other and a house. (Maybe I just think these things because my sister has already achieved most of these, and my parents keep pushing me to do the same.) But I don't know what I want from my future.
I would love to be a teen librarian. But. I don't love a lot of other things about libraries. Or rather parts where you can work in libraries. I think archives is interesting abstractly but put me in front of one, and I'd rather not. Or reference is really interesting until you give me something hard, and then I just want to give up. I don't like adult books so I'm terrible at Reader's Advisory outside of YA / kids books. And while I like management fine, I'm 24 and I look pretty young (and sometimes act like I'm still six) so it's usually hard for me to garner the respect of older people.
I love books. But I don't know much about publishing. And the more I know about it, the more worried I get. I want to help build a book from the ground up, but I also don't have a whole lot of interest in editing. I want to show off a company's line of books, but I am terrible at sticking to brands. Most of the time I don't even know what publishing company has distributed the book I'm reading. And I can't remember the last time I bought a book because of a publishing company.
I know I'm not the only one with doubts. I just wanted to let other people know they weren't alone either. We can get through this together. And if we're the kind of people who takes life as it comes, that's okay too. Not everyone has ten year plans.