BAHFest
Posted October 22nd, 2014 by Jill Silverberg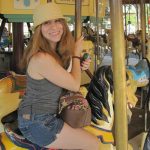 What do you think when you read the words, 'Bad Ad Hoc Hypothesis Festival?' If you think that the event is going to be as ridiculously fun as it sounds, then you are correct.
Sponsored by the online comic strip "
Saturday
 Morning Breakfast Cereal"
BAHFest
is a celebration of science and how amazingly awesome it can be. The rules of the contest are simple: come up with an outlandish theory and then prove it with science. What makes BAHFest amazing is that even the most ridiculous theory is backed up with absolute science. All the data and formulas are real even if they are being applied to something crazy like trying to prove that smugness is hereditary. 
As someone who isn't exactly amazing at science, I was worried that I would not be able to enjoy the presentations. However, all six presentations were hilarious, and different. The winner (I won't spoil who) 100% deserved the 3D printed statue of Darwin looking doubtful. 
Although this is only the second year that BAHFest has been held, it was clear from the long lines waiting to get in the event, which was held on MIT's campus, that there will certainly be another next year. For those interested in learning more about BAHFest,
check out its website
. Although the event is over, they recorded the entire thing which means everyone can enjoy the fun of BAHFest 2014!