Falling Down and Getting Up
Posted September 17th, 2014 by Jill Silverberg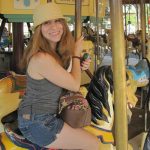 Yesterday, I fell off a ladder.
This wasn't some deep metaphorical ladder, but rather the type that one climbs when one is shelving books.This wasn't my first time falling off a ladder or step stool while trying to either shelve books or pull them down, and it probably won't be the last time either. After all, couldn't you argue that life is filled with moments like this; moments when you fall down and moments when you get back up. 
The other day while I was working at the Student Service Center's desk on the 2nd floor of the Palace Road building, a new student came by looking for information about the archives program. They wanted to know what I thought of the program, was it a good place to be if they were still a bit unsure about where exactly they wanted to go with their degree? Was I enjoying the dual degree program or did I regret adding the second Masters? And finally, what can they do to make sure that whenever they graduate Simmons, they will be employable?
As someone still asking herself that last question, I knew that I could at least offer a partial answer: take advantage of living in Boston, a city rich with libraries, archives, historic societies, and museums, and the opportunities that Simmons can offer you. The more work experiences you have, the better you will be when it is time to accept your diploma. I told them that when I first started Simmons one year ago, the only experience I had was working as a student worker in my undergraduate university's library. Even with that under my belt and on my resume, I struggled to find internships or part-time jobs. I wasn't the only person out there looking for those things; my competition was stiff, and just because I had a bit of experience, it didn't seem to be distinguishing me from the rest of the competition. However, I never stopped applying. After one semester at Simmons, my prospects began to improve. The things I learned in LIS 438 (Intro to Archives) turned out to be what my resume needed; it provided me with archive-based skills that I hadn't had prior. By the middle of January, I had a job working in a map gallery at the BPL. By the start of the summer, I had a job working in a legal library. Literally, one thing led to another, and that thing led to something else.
In the end, I told them to be persistent, to apply to all the positions that seemed interesting to them, even the ones that might be in a different area of library science. I never saw myself working in a special library, but I have thus far loved my time at the legal library. I also told them to give it time. It might take a month or even a semester, but the courses they teach at SLIS are there for a reason. Having that one semester internship in an archive or historic society really can make a difference when it comes to applying for similar positions. It did for me and a whole bunch of other students that I know. 
Persistence is the thing that helps me stand up after I've fallen off the ladder. It was also the thing, along with the knowledge and skills gained in my first semester at Simmons, that led me to where I am today. Good things will always happen if you keep trying. You learn how to balance yourself correctly on the ladder so you don't fall; you are accepted into an internship or part-time position that will help you take the next step towards becoming a librarian, an archivist, a cataloger, or metadata specialist. It might not happen today or tomorrow, or this month, but it will as long you don't stop trying.
Getting back up after falling down is always worth it.