Grad School Year Two: Bring it On!
Posted September 12th, 2014 by Jill Silverberg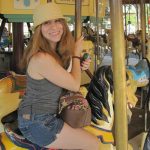 I'd like to start this blog post by first welcoming back my fellow returning grad students and by welcoming those starting their first year in SLIS! I have a good feeling that this semester is going to be a good one, and I wish the same to all of you.
Since the last time I posted something here, I've made the move from Brighton to Roxbury Crossing. Not only am I now living with other students from SLIS and the Children's Literature program, but I am also within fifteen minutes from school. Essentially, I will be at Simmons a lot this year, either at the library, at the Student Services Center desk, or in the tech lab. I even purchased an awesome blanket from the Simmons Bookstore to keep me warm while inside the Palace Road Building. Still deciding if bringing a blanket to class would be a bit too much. What do you think?
Beyond the above, I'm sort of ashamed to admit this but, the reality that my second year of grad had started didn't come when I went to class this week but rather, when I ordered my first pumpkin spice latte of 2014. I've always associated the PSL as a special treat to help get me through midterms in fall, especially if I have to pull a few all nighters. But with its early debut this year, it really brought home the fact that summer is over and that school has started. Of course, the real realization should have struck me when I attend SLIS orientation last week. This year, SLIS really out did itself. Held in the Main Campus Building, master of ceremonies Em Claire Knowles did a fantastic job welcoming in the new class of students while also unveiling the program's new identity of SLIS. Although I will miss GSLIS (Graduate School of Library and Information Science), SLIS (School of Library and Information Science) seems to unite the various graduate programs -and one undergrad program- that make up the Library School in a far better fashion. The ice cream social that was held in the student lounge was also a major success, allowing me and my fellow SSC co-workers a chance to hang out and chat with the new students. Also the weather, which had originally shown rain, was beautiful. 
Now with the week just about over, my schedule is packed with readings and response papers. It feels both strange and familiar to have homework again, and my fingers are crossed that I haven't forgotten how to write a concise reaction paper that compares two primary sources or how to craft a finding aid. After a long summer like this, I always find the first few assignments to be the hardest as I make the transition into academic mode. However, things always get easier once I've re-acquainted myself with skills that have been dormant since early May. Even so, I've been waiting for year two of grad school to start for a while now and can't wait to see what I learn this time around.
Bring it on!