A Night with Google
Posted August 7th, 2014 by Jill Silverberg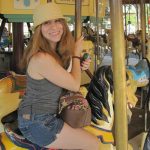 Sometimes I am purely baffled at the things I've gotten to do since moving to Boston almost a year ago. Most recently, I found myself at Boston's very own Children's Museum at an event hosted by Google as a means of promoting their online program, Google City Experts. Like Yelp, Google is trying to find a niche for itself within the world of online reviews. Nowadays, if you search for something on Google Maps, a box appears on the left hand side that includes a variety of information such as the address, hours of business, phone number, and website. At the bottom of the box, are reviews for your inquiry. Like Yelp, these reviews were created by users, and can range from being brief to extremely thorough. Write enough of these reviews and Google will eventually consider you to become part of their City Experts program. 
So here is the big question, is it worth it? Well, the event at the museum was hands-down awesome. For the most part, me and the other attendants had free reign of the entire museum. Since this was my first time ever visiting the museum, I admittedly spent quite a bit of time in the Arthur exhibit. It was like stepping back in time to the late 1990s; there was a re-creation of Mr. Ratburn's classroom, Buster's father's airplane, and life size copies of the entire cast. Clearly, I was in nostalgia heaven. Next, my friends and I wandered over to the bubble exhibit, and had a blast trying to make as many bubbles as humanly possible. Other highlights include jumbo sized Jenga, a massive climbing arena, and cake pops in the Google colors. On top of that, I met a Google rep who was wearing the new Google Glass and got to try it on. I'll be honest, I was so terrified of breaking it that I didn't have it on for long but I felt like I had stepped into the future. 
Perhaps the only downer is that to be considered for the program, one has to write fifty reviews and then an additional five reviews a month. It seems like a lot but, the perks just might out-weigh the cons. After-all, how many times do you get to have a fantastic evening 100% on Google's dime?
If you're interested in becoming a Google City Expert, check out the link provided below: