Serious Business
Posted June 17th, 2014 by L. Kelly Fitzpatrick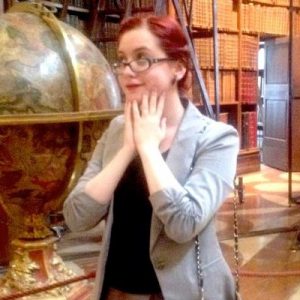 Twenty-something and caught between earning that graduate degree and staying sharp in a competitive job market – I know the feeling. When navigating a sea of internships, interviews, and conferences while completing full or part time classes, that extra boost of professionalism and confidence can make a difference. While all of those qualifications featured on your well-rendered resumé speak for themselves, having a business card can help have your bases covered on the perilous and formidable frontier of professional networking.
For a long time, the word business card alone evoked imagined landscapes of beepers and shoulder pads for as far as the eye could see. But sure enough, after seeing peers arrive to events with a business card in tow changed my ideas upon seeing their convenience and functionality in action. When you meet a someone that you'd like to collaborate with in a professional context, writing their number on a nearby receipt or popping them a friend request just won't cut it – and that's where business cards come in.
Okay, we get the point; business cards are a thing – but how do you get business cards? While there are a number of different avenues toward this goal, I'll share how I got mine. At the recommendation of friends, I decided to order a small batch of business cards from the printers over at us.moo.com. Faced with over 350 designs to choose from, I selected one which would print my contact information on none other than tiny books – an LIS student's dream come true, right? Finding what to put on your business card can be a difficult step when lacking a concrete job title between multiple internships and job opportunities – to simplify this process, I chose to feature my name, area of study, website, and email address. As one of the many functions of a business card is to express your professional identity, what you put on your card is entirety up to you. After an approximate week, they arrived on my doorstep ready to help stimulate collaboration at an upcoming conference. While business cards aren't for everyone and are by no means a professional necessity, they can serve as a trusted middleman between you, your peers, and establishing yourself in the field of LIS one conversation at a time.