Simmons Neon 5K
Posted April 15th, 2014 by Jill Silverberg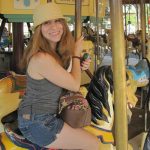 This past 
Saturday
, me, my sister, and close group of friends came together to participate in Simmons Neon 5k. For most of us, this was the first time any of us had run a significant distance in a long time. Although I used to run competitively, I haven't run a race since my senior year of high school, so going into a race like this was both exciting yet nerve racking. A part of me really wanted to run the race as fast as possible but I knew that that would be a pipe dream; there was no way I was in any shape to run a 5k in about 25 minutes. So, I decided to aim for something else; finish under 30 minutes and do it without walking. Even if I did have to stop, I knew that both my friends and my sister would be there to support me.
On the day of, the six of us met on the course with mixed emotions. My sister and I were excited to get started, the others were a bit more weary. Even so, they all had signed up and were determined to finish one way or another. Afterwards, we had already decided that we would reward ourselves by going to a local pizza place and stuff our faces with delicious food. 
So how did the race go?
Well, I did manage to run it non stop and finish ahead of thirty minutes. The rest of my ragtag group did finish as well, although I think out of all of us, I was perhaps the one taking the race the most seriously. Once we had all caught our breaths, I was eager to know who would be interested in running another race with me at one point in the future. Let's just say that I don't think any of them (with the exception of my sister) will be running again in the foreseeable future. 
On the brighter side of things, at least we all got to eat some awesome pizza!