Five Reasons Why it Needs to be Spring
Posted April 1st, 2014 by Jill Silverberg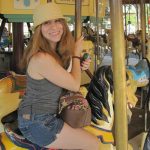 Although spring technically started about ten days ago, it sure does not feel like it. In fact, while I was out running errands today, I realized that the rain turned into hail. Now I am an total fan of winter but even I know when enough is enough. Unless this seemingly endless winter is a curse accidentally placed on us by Queen Elsa from Frozen, starting tomorrow, it better start feeling like spring. Now, I know its been a while since it has even come close to feeling like spring so I've composed a list of five reasons why its time to open up the windows and enjoy the fresh spring air.
1. Warmer weather. Think how wonderful it will be when we no longer need to go outside bundled up in winter wear? Rather than having to wear extra socks on my feet, I cannot wait to bust out my t-shirts and flip flops.
2. The rebirth of nature. One thing that I absolutely love about spring is how everything seemingly comes alive again. Flowers bloom, trees sprout leaves, and butterflies are everywhere. Yea there are those pesky bees flying around but who cares? The world is full of color and life and that is more than enough reason to put up with bees.
3. School's out. Ok, this is technically not totally true, but at least those of us taking summer school get a bit of a break. And with our newly acquired freedom, we are finally given a chance to get outside and do fun things, like urban exploring or simply chilling out in the Common.
4. BBQ!!!!! Simply put, there is nothing more fun than being outside grilling with your pals on a warm spring night. Also, BBQ'd corn is a personal favorite of mine. Yum

And the most important reason why is needs to be spring is….
5. More time for reading. Yes, that's right, with spring comes ample time to catch up on all that leisure reading I've been setting aside. Being the bibliophile that I am, I take pleasure reading very seriously. And right now, all I want to do is find a nice shady spot under a tree in the park and read to my heart's content.

Winter, you are a wonderful season but seriously, its time to go.